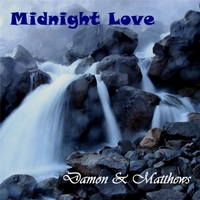 "Magic Dreams" recalls a woozy kind of pop, the kind of comforting thing needed after eight hours at work. Damon & Matthews work in creating an unusual mood, rigid with a motorik rhythm before it loosens up into a strange dream interlude. Comparisons to those wonderful early 2000s solo artists, the ones who did it all, like Nathan Michel, are unavoidable. Neatly embodying a new sense of discovery the piece itself is chock full of melody and life. Particularly nice are the pitch shifts that define much of the sound almost embedded within the piece.
Audio: http://www.reverbnation.com/damonandmatthews/song/23065295-magic-dreams
An economic beat begins. The singing emphasizes the imaginative song structure itself. Lyrically the song explores the subconscious, as the work moves into odder and odder territory. Efficient piano and vibraphone work together to overall create a strangely lounge-oriented sound, like the kind of music that permeates every David Lynch film. Yes there is a sense of wholesomeness that exists and is undeniable. Underneath that shinning veneer there are darker themes hinted at, explored in only mere glimpses. Repetition is of the utmost importance as the song works as a mantra of sorts. Going again and again to the same experience the lyrics observe brighter days, which implies that there are darker impulses at work presently.
By the very end of the song the piece appears to move forward into a surreal finale. The synthesizers are neon-hued and airy. For the breakdown they explore a pop-friendly electronic territory. Ever so delightful askew, "Magic Dreams" is a perfect pop daydream.
http://damonandmatthews.bandcamp.com/
http://www.cdbaby.com/cd/damonmatthewsfeaturingfl3
Posted by Beach Sloth – http://beachsloth.blogspot.com