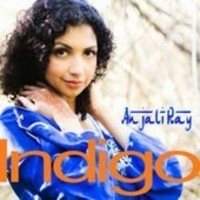 East meets west in perfect harmony with New Delhi's Anjali Ray as she releases Indigo Boy. Influenced by the likes of Sarah McLachlan, Sade, and Tori Amos, this Hindi artist understands the irresistible mix of pop sensibilities and dynamic lyricism. Citing her extensive training in playing classical piano, Indian Hindustani classical vocal training, and even jazz, Anjali provides both bluesy and ballad-y. It's perfect listening whether at the jazz club, the spa, cooling down after a long day or, heck, at TJ Maxx where Natalie Imbruglia and Ingrid Michaelson are played twenty-four/seven.
Anjali's musical foundation and training is evident through the album as her vocals and songwriting balance well, neither one outweighing the other. Indigo Boy is an honest result, formulated by stories of struggle only an experienced songwriter could endure with clarity. "So Long" begins this sonically global fusion fare, an upbeat yet lyrically painful offer that speaks a universal truth. She sings: "Then I hold you close to me and now I'm torn/Will you ever wake up…I can only love you for so long." It rips your heart out by surprise as Anjali details love nearing the end of its rope. "I'm a rolling thunder/I'm a river moving on/I'm the night that vanishes into the dawn," she continues, utilizing images of nature that help elevate this to an almost spiritual experience.
Anjali takes a step back to show her vulnerability with album stand out "Fear," which sounds like it belongs with the best of female songwriting in the 1970's alongside Joan Baez but more so belongs on your IPod. Here, against a simple piano instrumental Anjali rhythmically coos "I never rattled the chains of my soul/Pulling me under, I can't see the show/But I chose fear, fear, fear/I chose fear, fear, fear." This peek inside a haunted soul can once again be felt on "Won't Let Go." She asks the listener to "pray for the summer time, pray for a lover's life," and there is something about her vibrato lingering as she sings the words "won't let go" that make you melt. The lyrics become literal.
At her most jazzy, "The First Day" does a soul good. Anjali sounds at her most comfortable and right at home when singing the blues. The piano and shakers do a great job on this head nodder as the drums find their way in during the chorus. Through all this, Anjali shines brightest on "Immortalize Me." Perhaps it's a statement on the hopeful longevity of her music (which is a personal hope judging by this review). Regardless, the Hindi songstress displays her greatest storytelling, singing: "A perfume on the breeze/ Is gone like ash and dreams/ Unfolding mysteries of life/ Life childhood innocence/ There's nothing permanent/ But we can cheat the system blind."
Anjali comes at a vital time, a much needed answer to the western world's lack of mainstream honesty. Indigo Boy knows how to entertainment while making the listener reflect, a skill that too often is one without the other in the music of most artists.
Purchase Link: https://itunes.apple.com/us/artist/anjali-ray/id950827000?ign-mpt=uo%3D4
Primary URL: http://www.anjaliray.com/
by Erman Baradi