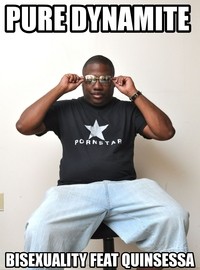 Pure Dynamite's "Bisexuality ft. Quinsessa" is a beast of a track. First of all it samples perhaps one of the catchiest things Armand Van Helden has ever done. In fact in many ways the Armand Van Helden track "You don't even know me" feels like an apt pick. Lyrically the song focuses on personal identity and how that informs one's choice of partners. As Pure Dynamite describes his relationship he shows a certain kind of care. Here while his language might become extremely explicit his ultimate intent and admiration is clear.
"Bisexuality" ft. Quinsessa
https://www.youtube.com/watch?v=Be16HUm_rQo
The sample itself is warped into a colossal bass. By adding additional beats and bass into the mix the song has almost an overwhelming physicality to it. Considering the subject matter this is completely appropriate. With this slight tweak on the sound the song takes on a wild sound. Rhythmically it syncs up perfectly. Letting the piece take on a playful, flirtatious approach works wonders for the track. Besides the impact that Pure Dynamite has on the track there are the significant contributions of Quinsessa as well. She adds the other view of the sensuality that is so pervasively described in detail. While Pure Dynamite merely describes what transpires, Quinsessa lives it. As a mere observer Pure Dynamite is only able to narrate yet Quinessa is able to truly feel it.
By the time it ends it feels positively perfect. With a luxurious groove and decadence, Pure Dynamite's "Bisexuality ft. Quinsessa" is a pure blast.
Posted by Beach Sloth – http://beachsloth.blogspot.com/