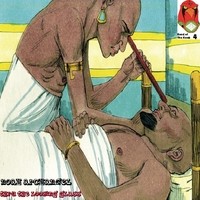 Thru the Looking Glass uses a wide variety of samples to offer a reflection of sorts on religion. Heavy dollops of discussions from the movie "Dogma" are used as are nostalgic sweet tidbits from sounds of long ago. Such things help to make it a unique involved listen. Noah Archangel lets the songs feed off of each other and as such the album is best listened to as a whole. Pieces of it seem to focus on the desire and need to understand one's own personal belief systems. Hence the album has a remarkably personal sound to it.
Audio Listening Link:
http://www.bandofthehawk.com/cds_downloads_cassettes/thru_the_looking_glass_by_noah_archangel/
Opening up with "Boomin in Ya Jeep" immediately they state "Damn I love this shit". Indeed the sample gives it a dreamy quality to it. A grand sample graces the glorious work of "Sticks & Stones". Much of it shuffles back and forth under the power of a particularly strong bass line that rumbles hard. With a snare drum rush the nimble "Get !t" burns through its track time. For "Rachet Mummy" the song shows off Noah Archangel's sense of humor. On "Thru the Looking Glass" Noah Archangel nicely weaves together the "Dogma" samples with his own particular sense of melody. "Moon Walker" takes on a more electro sound letting the piece neatly echo onwards. By the end of the album on "Fallen Angels (Intro)" Noah Archangel reaches an oddly beautiful conclusion.
EPK: http://www.musicsubmit.com/ArtistSubmission.cfm?BN=82479
Noah Archangel's work is an interesting meditation on religion and spirituality.
Posted by Beach Sloth – http://beachsloth.blogspot.com