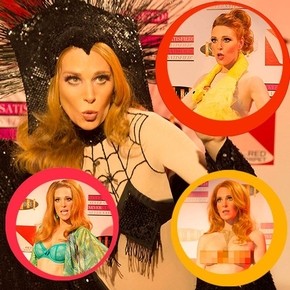 Dressing up in iconic outfits that recall the eye-grabbing, 'shock and awe' garb worn over the years by Cher, Jennifer Lopez, Bjork and others, Rose pokes fun at celebrity fashion obsession in her new video for 'Never Satisfied'. It's a witty, biting (and subtly sympathetic) view of the pressure female celebrities are under when they make high-profile public appearances.
From Bjork's Marjan Pejoski 'swan dress' to Jennifer Lopez's green Versace show-stopper, to Cher's Bob Mackie creations, Rose plants her tongue firmly-in-cheek as she re-creates these oddly memorable visuals in the new video. The spot-on recreations begin in verse two.
Rose's 'Never Satisfied' concept is a also timely bit of social commentary, as the objectification of women at spotlight events is under greater scrutiny than ever.