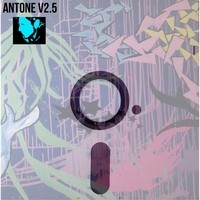 V2.5 is what goes bump in the night. Antone's tracks positively bounce with energy. Elastic grooves define the album. Melodies are infectious. Pieces of it are reminiscent of early Warp Records, particularly pioneers like LFO. For Antone's work is that concise. Here Antone further refines his approach using a remarkably large palette of sound and using it right. Pieces are balanced between the physical and intellectual. Clever work with the gradual textural changes and interesting usage of shifting tempos give the songs a sense of spontaneity.
Buy – https://itunes.apple.com/us/album/v2.5/id958009877
Nimble synths open up "Clanky Starz". Almost stumbling over each other the sounds begin to come together into an efficient groove. One of the highlights of the album is the driving groove of "Omega". Possessing a perfect feeling of eternity "Omega" is the sort of song that ought to go on forever. Changes are constant throughout the piece though Antone is clever enough to keep the steady rhythm going strong. Intense energy defines "Blue Myst" whose sound overwhelms. Beneath the many different layers of sound is the steady bass line moving things forward. Distortion introduces "We Know". Antone builds this track up slowly letting the melody move from timbre to timbre. Volume is a must for the album highlight "We Know". Intense the piece moves from strength to strength. Moving into a light shuffle the song embodies all of what Antone does best, with even a few nods to Mr. Oizo thrown in in the latter half of the track.
Audio – http://open.spotify.com/album/3mqo3n0Nq7CSmhY3eJZ2X9
For the final stretch of the album Antone moves into more contemplative territory on the shimmering sounds of "Meta". Bringing things to a dreamy close is the elegant work of "Rumbo (Les Etoiles)". V2.5 displays Antone's skill as a master of dance music.
https://www.facebook.com/antone4657
Posted by Beach Sloth – http://beachsloth.blogspot.com