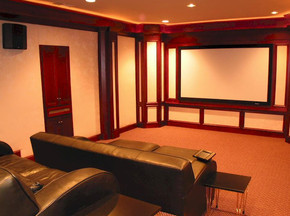 So you've decided to make some considerable upgrades to your home theater, but you only have a limited budget to work with. While you shouldn't expect to create a movie theater that is worth charging $10 a ticket for entrance, you can still make it one of a kind experience your friends and family will enjoy for years to come.
Sound and Acoustics are Important
If you originally designed and built your home theater with no consideration for acoustics and quality of sound, you're missing out on some great movie experiences.
There's a reason why theaters are designed and built in a specific fashion. You should focus on remodeling your home theater so the outside noises are kept to a minimum by covering your room top to bottom with something that absorbs the sound instead of amplifying and transmitting it. This can easily be done by installing damping drywall that is thicker than normal. If you're not building from the ground up though, put up some helps that will work to absorb sound waves. This can be things like padding foam, egg cartons, or just plain old quilts. Adding to the walls will work to keep your big noises inside and not disturb the rest of the house.
How You Cover Your Floor
The key to creating the best atmosphere inside a movie theater is to garner the best sound possible. One of the easiest ways to do this is to cover your floor with the right materials.
Home theater floors should never be covered in wood, tile, linoleum, or concrete. Use a nice, thick carpet to cover the entire floor of your home theater. The color of the carpet can also create the perfect movie theater atmosphere for your guests. If you are working with the carpet you already have, throw down some thick rugs for more absorbency and comfort.
Install Window Shutters
Window shutters are great for home theaters because they provide the maximum amount of darkness and are relatively affordable. While many individuals who build home theaters use window curtains or some other type of material, they don't get the best results because curtains normally don't cover the entire window.
According to http://sunburstshutters.com/, black window shutters are likely your best option because they will blend in with the background when the lights are off.
Color Choices
When painting your home theater, you must choose the right color combination to get the best effect. Dark, neutral tones are great ways to set an atmosphere. Theater designers normally go with color combinations that control reflection and make the room feel larger at the same time. Try using a dark navy or dark red color for the walls and paint the ceiling black. The carpet should be either off white or an earth tone color. Your lighting will also be of vital importance. Go with smaller wall lamps that won't shine too much light, and keep the theater in relative darkness.
Your Furnishings Should Impress Everyone
The furnishings you choose will make or break your home theater. The best option is to buy brand new luxurious recliners or comfortable couches. If you can't afford to purchase brand new items, use a couple couches and chairs from your living room that are clean and very comfortable. Bean bags are great for gaming and just lounging.
Regardless of your budget restrictions, a unique home theater is within your reach. If you have the right sound system and visual equipment in place, the rest of the design will be easy to finish. You can always save money by using furniture from other parts of your home and installing carpet that is just sitting unused in your garage.