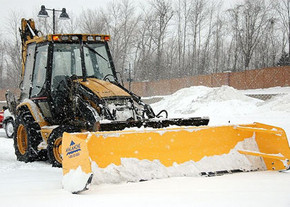 Snow, snow, and more snow! This season, several areas of the U.S. and Canada have been hit particularly hard with winter weather.
Snow days might mean a day or two off from work or school, but it also might mean that you need to spend a large chunk of time clearing sidewalks and driveways—perhaps repeatedly. If you can't or don't want to shovel, you can hire someone to remove your snow.
Before you hand over cash to a company, make sure to check them out. Why do your due diligence? After a storm or natural disaster, scammers often take advantage of people, whether it's tree removal, roofing, or snow removal fraud. There might even be pop-up businesses that don't operate legally in your area, known as "storm chasers."
In some cases, scammers will strike before anything happens. One community in Columbus, Ohio, reported cases of a man selling seasonal snowplow packages, who accepted cash, but never delivered when the weather came.
How can you avoid unscrupulous deals to remove unwanted snow?
Watch for these warning signs:
They aren't who they say they are. Scammers may use names and addresses of legitimate companies who they aren't affiliated with at all. Consider asking to see identification, especially if the vehicle is unmarked, or call the company's office to check that the person in question is employed there.
They want you to pay in full up-front, and in cash. Some trustworthy companies may ask for full payment in advance, but it's not a good sign if they won't accept checks or credit. See if they can accept a partial payment before plowing or shoveling, with the rest on completion.
Get multiple quotes. Not everyone who knocks at your door is out to scam you, but you can also look up companies online and compare quotes. You can head to bbb.org to look up business reviews and more information, and you can even find lists of trusted businesses in your area on local BBB directories.
Talk about scams. If you know of a scam in your area, let others know about it. Scammers often target the elderly and disabled, so make sure to warn others by letting your BBB and your local law enforcement know. You can look up contact information for the BBB serving your area at bbb.org.
Hope you stay safe and warm during snowy weather!