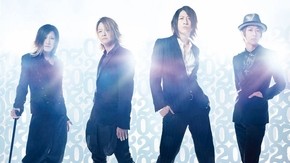 Background: GLAY is a rock band from the Hokkaido area, and formed in 1988. The members came together as a high school band, when founding Takuro, asked Teru to play drums. Growing in local popularity while still in high school, a move to Tokyo after graduation taught the the harsh truth that a popular small town band doesn't immediately equal bigcity success. With persisitance, they develped their music, bonded with more fans, and developed to such a point that in 2010, they were ranking as the 7th Highest Selling Artist in Japan, with over 37.5 CDs sold.
Website / English: http://en.glay.co.jp/
GLAY is a band that seems to bring happiness wherever they go. Enjoying mainstream success, the band has come upon their 20th year anniversary. With this anniversary, many fans for months before speculated of an EXPO to mark the occasion. The band is no stranger to having EXPOs with only their name attached, known as GLAY EXPO, the band pulls in larger crowds than normal concerts they play with the highest being 1999's SURVIVAL GLAY EXPO bringing in 200,000 audience members. Since then they have continuously brought in upwards of 60,000 attendees to every EXPO they have. With this being the 20th anniversary, it had been ten years since the last EXPO in 2014.
This particular EXPO was held at Miyagi stadium in Tohoku. The band had toured in the weeks before around the Tohoku region in support of the EXPO as well as for fans who could not make it to the EXPO. Coming from Okayama, the scenery in Tohoku is magnificent and breath taking. The fact that the EXPO was being held in Tohoku was no coincidence. The earthquake and tsunami that took place in Tohoku in 2011 was still fresh on everyone's mind when entering the EXPO. When entering the area where the stadium is housed, the feeling you get when you see all of these people, all 60,000 coming together for one band and one area is touching. It is quite possibly the biggest thing I had ever been to outside of a festival. I would venture to say that GLAY EXPO is the biggest concert for one band in the world and if you have a chance to go to one, you should immediately take it.
Going into the venue, there was a large billboard over the stage advertising the band's 20th anniversary EXPO in Tohoku. Balloons hung overhead to add to the light, fun atmosphere. Personally, before, I regarded GLAY as a band to only listen to when I was happy, a band to listen to when I was wanting some pop coated rock music. After this EXPO, that all changed. Before the band came on stage, there were various dance troupes from the various towns within Tohoku. Tohoku has a rich cultural background that was displayed at the EXPO, highlighting the proud people of not only Sendai and Miyagi but the whole of Tohoku as people who are resilient and strong in the face of tragedy.
When the band came on stage, it became a whirlwind of chanting and emotion. Even if you were in the top row, you could feel as if you were one with the crowd and band from the constant energy the band put forth. Before the concert we were given a device that looked similar to a clear watch. Putting it on during the daytime and turning it to 'On' only served us a flicker of light. For a moment, I was confused as to if it was broken or not, as were the people around me. As the evening came though, it became apparent at just what they were for. Hitting a guitar chord, the first flicker of light was seen through the crowd, as the song went on, they all flashed on at once in alternating colors and patterns. In a sea of light, the EXPO was lit up by 60,000 fans of one band, completely united.
Of course there were the EXPO usuals, the group video which showed a showdown between bassist Jiro and guitarist Hisashi, as well as the lighting of a flame by the members on top of the billboard. Broadcast in theaters and TVs all across the country, the 20th anniversary of GLAY was marked my GLAY EXPO perfectly. While fan favorites such as Minamigochi were not played, songs like SAY YOUR DREAM, HIGH COMMUNICATIONS, I'm in Love, and even surprise song MISERY were played. Fan favorites HOWEVER and BELOVED were also played. The theme song for this EXPO was one of the new singles BLEEZE which is the band's 50th single. Coming together as a band, Teru, Takuro, Hisashi, and Jiro brought happiness to the world again and highlighted the strength of the people of Tohoku.
Coming out of this EXPO, GLAY went from a band that was only played on my iPod every so often, to one that is now played frequently. I am looking forward to catching more shows from them and looking forward to their infectious happiness.
Video: https://www.youtube.com/watch?v=U9HbtgwUSq0
Apryl Peredo, MBA – http://twitter.com/#!/interidoru
Guest Writer: Kala Dunaway – https://torikokei.wordpress.com/