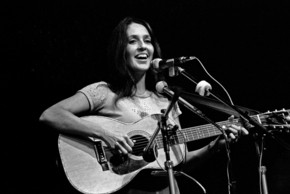 New York in the 1940's was a time of many things we still remember today—panic and nationalism in the face of World War II, hesitant hopefulness as the economy climbed out from the Great Depression, and…folk music? That's right, as it turns out the folk revival movement got its start in New York, as an answer to the resurgence in popularity of square dancing, no less. The folk revival wave rode high throughout the 40's, 50's, and 60's, spawning great artists like the following.
Bob Dylan
Easily one of the most well-known and continuously highly regarded artists to come out of American folk revival, Bob Dylan was first signed in 1961, though it took a little more time and a cover performed by Peter, Paul, & Mary to shoot him to stardom. Though he diverged from his folk revival roots in later years, early songs like "Blowin' in the Wind" and "The Times They Are a-Changin'" enjoyed immense popularity among the folk movement, and even became anthems for civil rights and anti-war movements.
The Kingston Trio
Though not the original forefathers of the folk revival movement, The Kingston Trio are generally accepted as the reason it became mainstream. A folk artist with an online Master's in Music Education says their version of "Tom Dooley" sold more than 3 million copies in 1958, earning them a Grammy for Best Country & Western Performance at the inaugural awards ceremony. The band's continued success spurred the National Academy of Recording Arts and Sciences to add a folk music genre to the Grammy's the next year.
The Weavers
At the beginning of folk revival, there was The Weavers. The band formed in 1948 and enjoyed immense success with strings of hit single after hit single, culminating in an abrupt end when one band member, Pete Seeger, was outed as an alleged communist. This led to The Weavers, with their twangy banjo backing the sweet warbling of Ronnie Gilbert, being driven underground, along with folk music in general, until the second wave of the revival a decade later.
Joan Baez (Photo)
With her debut album holding a spot on the Billboard charts for over two years, it's easy to see why Joan Baez is a cornerstone of the American folk revival movement. Her rich soprano with its beautiful vibrato brought her own character and personality to every song she performed, earning her enormous popularity despite performing few original songs in her early years.
Odetta
Dubbed the "Queen of America's Folk Music" by Martin Luther King Jr. himself, from 1950 on Odetta reigned supreme on the folk music scene. Her Odetta Sings Folk Songs was among 1963's best-selling folk albums. Covering such greats as Lead Belly and Josh White, Odetta's vibrant, soulful deep voice made songs her own and cemented her spot as a lasting hallmark of the movement.
Folk revival is a deep and varied genre, spanning melancholic ballads and upbeat traditional tunes. Delving into folk music can be a richly rewarding experience for the musically curious, but if you just want to test the waters, starting with these five is a great way to go.