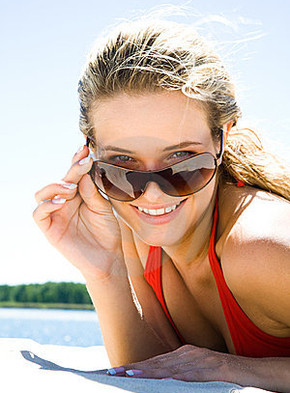 Focusing more on the frame than on what is inside it, that is. We are always looking on the outside and ignoring the inside… and it should not be that way; not for people and not for sunglasses. While the frame is important, the shape and color needs to match your hair and skin color as well as the shape of your face, you need to think about the lens tint as well. You will be looking through them after all, right? So what are your options?
For the finest glasses, you have many options! There are so many tints to choose from and while you need to think about your personality, style and color palette, there is an element of function to each of these tints. So let us take a look at a few:
1. Gradient lenses
These are rather popular, particularly with the younger crowd. They look cool especially because of how the lenses get lighter towards the bottom. These give you better visibility than the other lenses that have a full tint. You want to get these if you drive a lot and hang out in places with low light.
2. Mirrored lenses
Another popular option with the young and younger at heart , these lenses come with a reflective coat over their surface. This gives them that 'cool' factor and in addition, it reduces glare. They are great for outdoor sports like skiing, hiking and a range of water sports since they help with visibility.
3. Polarized lenses
These offer a great option for the outdoor types that would rather not have the flashiness of the mirrored lens. They have a filter that takes care of the glare you could get while hiking, golfing, fishing, and motorcycling and all those fun outdoor activities, all the while maintaining an understated look.
4. Yellow lenses
These are both really fun to look at and look through. They brighten up your look while increasing your visibility. They help with depth perception too, which makes them great for winter sports, baseball, golfing and softball.
5. Rose lenses
These are often a hit with the ladies. They are great for a variety of skin tones and make for a pretty look. As for function, they give the best resolution in areas with low light while enhancing contrast, making it easier to see shapes and objects more clearly. These are great for a sunset beach party, motorcycling, biking and a range of water and winter sports.
6. Grey lenses
These are common since they go with just about any outfit and any event. They reduce the brightness and glare from the sunlight so they are great for a sunny day out (or a bright morning after an 'eventful' evening). They are versatile and depending on the shape of the sunglasses, anyone, at any age can wear them to any event.
To find more tints for sun glasses online stores have a lot to offer, and you can check those out at your favorite store.
Author Bio: Gary Marks is an eye-wear specialist having worked as a designer for some of the biggest brands. He is something of a trendsetter. For more information on sun glasses online stores visit his website.