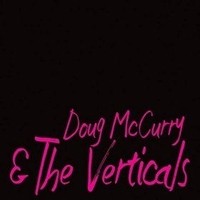 Musical energy and the exchange between audience and a song or band can be such a crucial lifeblood for a composer gathered in the name of fulfilling exhilarating music for music fans. Some of this applies to Trippy Alternative Folk based music and Alternative Rock of the 90's. It may not be for everyone but no one can deny it has a very dedicated cult following. It's almost comparable to an intellectual monster unleashed for the sole reason to get your ass thinking.
North Carolina based Doug McCurry seems to have a firm hold on energy with their melting pot of even keeled Rock sounds and a unmistakable vibe that will warp many into musical submission without even trying. Doug McCurry and the Verticals is an epic explosion deriving all your Past Psychedelic thoughts and fears into a musical landscape tinged with Alternative Rock and Blues. We start off with the intro banger "Knocked Me Down" where your mind and body will ignite and have no choice but to get into this music. We then move into the brilliant melodic bliss of breaks with my top pick "Nasty". Over the span of his musical career, he has created several albums thus far of which he wrote all the music, while also being responsible for the production and arrangements. His approach as a singer songwriter conveys a range of tones, from melancholic solo pieces to feisty and danceable folk songs that possess an un-deniable zany yet fun sound. As a result his music transcends cultural boundaries stylistically as evoked in his lyrics ability to portray universal life experiences. It's clear that time has not slowed the progress of this amazing style of music in the least. Known for their super exciting and live energy infused sound this is one artist on a mission to prove good music is still alive.
I feel this music Alternative Pop with hints of Punk, Folk and Rock. I can't claim to be an expert on this unique hybrid style of music, but I am familiar with comparable artists like Harvey Danger, Cake, Dire Straits. I must admit my only real exposure to this style was just recently during a recent road trip courtesy SIRIUS XM Radio. I get the impression this style of music was so popular for 2 reasons. 1: it's extremely stimulating to the senses, and 2: the music will cause you to think/groove thus creating an almost euphoric effect when dancing – especially if you are slightly inebriated. Rock music in general did the same things many years ago so perhaps this heightened sound stimulation is at the core of it all. Track 4 "Five Years Ago" keeps it honest and I can really relate to this track as it delivers Bluesy-Rock exuberance and mind numbing lyrical content. Yep this CD has it all with just 10 tracks in all. This is a juicy 10 Track ride. Track 6 and 7 "Rain on the Awning" and "Don't Know" " are also strong pieces and "Fireball" and "Stick Around" are two strong closers.
Whether you're a fan of this style of music popular in the 90's or not, Doug McCurry shakes the tree with this CD entitled "Doug McCurry and the Verticals." These 10 tracks have a little something for everyone, and is well worth the listen. At the least it will be sure to remind you why this style of music was so popular – and it's making a comeback. Just let the spirit move you and you will come to appreciate what this style of music is really all about – let loose and let the music do the talking.
AMAZON: http://www.amazon.com/Doug-McCurry-The-Verticals/dp/B00S3AHDEA
URL: http://www.dougmccurry.com/
Score: 4/5 Stars
Kevin Lacy