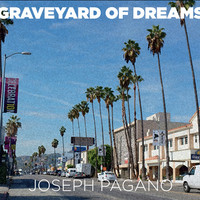 Joseph Pagano's "Graveyard of Dreams" taps into the best of Americana. With a classic rock sound the songs display the true virtue of earnestness. Throughout the album Joseph Pagano comes across as a caring, empathetic soul. Lyrics reflect this as well as he express joy at seeing people treat each other with kindness. For it is this warmth that really defines the album: his consideration of others and respect for good deeds. Characters within his songs are treated with care, for he shows that he truly knows and understands their motivations.
http://josephpagano.bandcamp.com/releases
"Don't Let Chances Pass You By" begins with a burst of energy. The song hits hard with the percussion in full swing. A country twang defines the ramshackle rhythms of "Katrina". A casual shuffle shapes the poppy "Graveyard of Dreams". Joseph Pagano strips his sound down for the intimate "Little Girls" whose narrative sensibilities transform it into a character study of sorts. Opting for a grand sound is the gigantic "Candles Hope & Faith (Solo)". The stripped down sound continues. Showing off his impressive chops the song is the collection highlight, serving as the heart and soul from which all else flows. On "To the Rescue" the band returns. A gauzy late 80s sound is employed on the track. Ending the collection off on a high note is the dramatic instrumental "The Sounds of Life".
Maximum volume is recommended for "Graveyard of Dreams". More rock should sound this good.
http://www.sonicbids.com/band/josephpagano/
Posted by Beach Sloth