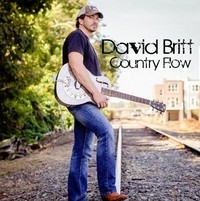 Dave Britt is a driven, passionate and charismatic singer-songwriter with a unique approach to his blend of folk, rock and pop. His country and Americana roots blend in with an uplifting modern songwriting sensibility; not unlike few. "Country Flow" on Spectra Records is a fine effort for this pop-country sort of blend hitting shelves mid-February 2015. It's not exactly hardcore country, but as the title suggests, it's more of a "Flow."
The CD starts off with the title track, and it works well but to be honest, the acoustic driven tracks are Britt's stronger suit. This pop drenched tune is a good way to start the set though. But it gets better on the next track, She Likes The Oak Ridge Boys with some great humor to carry it. As mentioned, the acoustic numbers are where Britt really shines, and it all begins with Forgive Me Girl. This is a lot more down the line of traditional country, with some decent picking. It still rings of pop, not a lot less than what is to be found on the previous two tracks. Next up is the single, To Hell With Your Love, and it's actually a rocking tune. This comes unexpected at this point, but it doesn't hurt what's on offer so far. This is actually a killer song with a video to promote it. When Tennessee Calls is a full on ballad, which slows things way down, but not before the live atmosphere of Alcoholiday kicks in and bring back a little more spunk into the picture. Some more fun kicks in a little later with Britt's very ambitious cover of Michael Jackson's Billy Jean. If anything, this version shows the song's universal appeal to be stronger than meets the ear. Not bad at all for what it is, benefitting from a bit more musicality, if anything. I wouldn't exactly call this a country version, but it's definitely countrified with plenty of fiddle. It's hard not to tap a toe to this stand out effort. And the rest of the CD cruises along with the same weight of poppy tunes, some inspiring, some simply not.
Britt is a different taste of country, there's no questioning that, but it's a good easy listening sort of country that takes nothing away from traditional country and country rock we all know so well. I would almost classify it soft country pop as well, because of the amount lovely acoustic dominance, as these are the more intriguing tracks, with Dream You Next To Me being the strongest of them. While it's not for everyone, it also hits its proverbial target.
AMAZON: http://www.amazon.com/Hell-Your-Love-David-Britt/dp/B00PG84AJ8/ref=sr_1_1?s=dmusic&ie=UTF8&qid=1416246450&sr=1-1&keywords=david+britt
URL: http://www.davidbrittmusic.com/
Cory Frye