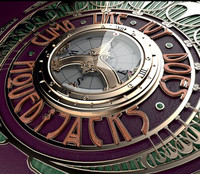 Piqued Jacks "Climb Like Ivy Does" is full of heart. Songs are full of Byzantine twists and turns. The sound is a rich tapestry merging elements of psychedelic, dream pop, classical, and even elements of post-rock. Vocals rip through the distortion to make themselves heard. Lots of textures are thrown together with a nice balance between restraint and absolute bombast.
Music: https://piquedjacks.bandcamp.com/
"Reign of Clouds" opens up with nimble guitar work. They go from near-silence to absolute crushing percussion with the greatest of ease. A groove establishes itself throughout the chaotic piece as it veers from a driving rhythm to contemplative near-silence. Optimism defines the confident "Shyest Kindred Spirit". Piqued Jacks really excel on the grandeur of "Home is Forever". Nicely starting out with a fantastic rhythmic workout the piece has an almost martial beat to it right in the beginning. For the finale they display their unruly chops and let their repetitive riffing reach a pinnacle of transcendence. By far the album highlight is the methodical "Only a Bridge". With a melody that burrows itself deep into the mind the song evolves perfectly. The bass line, the spent sounds of the guitar, and the clever lyrics, working together to convey the image of a fully-formed narrative. For "Gift Handed Down For Generations" Piqued Jacks work themselves into an absolute frenzy.
Ending things off on an ambient note is "When Glances Meet" bringing things to a calm conclusion. "Climb Like Ivy Does" is a reflective gorgeous piece displaying the immense talent of Piqued Jacks.
Posted by Beach Sloth