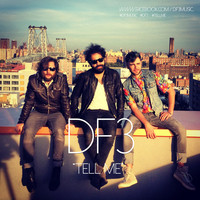 Df3's "Tell Me" embodies dance pop at its most optimistic. Akin to Röyksopp at his most ebullient the piece absolutely bubbles with well-crafted hooks and satisfying pieces. Singing through a series of filters the song tries to capture the emotion that transmits over such long distances. Clearly this is reflected in the song's sound which has become completely globalized. One of the great things about the sound is how it is able to use its slight modulations to convey deeper thought and meaning. By focusing on the universality of loneliness, the lyrics themselves adhere to this very principal, exploring the infinitely relatable feeling of being by oneself.
"Tell Me"
https://www.youtube.com/watch?v=FXLgNFlwiBA
The piece begins with a straight-ahead dance-friendly beat. From there the music shifts into a different approach. Reminiscent of the fusion attempts of acts like Justice and Daft Punk, the sound becomes quite enormous. With each repetition it grows constantly larger. Gradual at first the piece increases in volume, intensity, and ultimate impact. As the piece progresses those initial flourishes of sound come are explored more fully as the piece progresses, letting Df3 elaborate upon those early ideas. Moving away from the beginning's pessimism the song blooms into happier colors. On the final stretch of the piece the work returns to its initial dance impulses. Unlike the beginning however imbued within this new sound is a different sense, a sense of hope.
Buy: https://itunes.apple.com/us/album/tell-me-single/id922839300
Utilizing an arena-rock sound Df3 brings together the best of dance and rock into a neat package
Posted by Beach Sloth