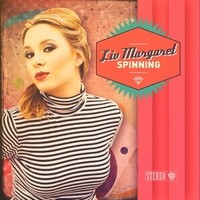 Liv Margaret's voice is clear and distinctive on "Spinning". Full of peppy energy "Spinning" virtually bursts at the seams. The giddy sensibility of the songs is obvious. Additionally the arrangements flow perfectly with Liv Margaret's strong voice at the center. By focusing on a bouncy pop sensibility the songs work together to create a comfortable series of stories. Everything nicely comes together from the gentle ballads to the blasts of sheer joy.
"Spinning"
https://www.youtube.com/watch?v=9K9tu-xCG-4
Opening up with the sheer optimism of "Spinning" the song is visceral. Hand claps, a stomping rhythm, and an infectious hook, this is the kind of song designed to hook itself into the mind. And it is quite catchy indeed. The song's chorus sounds like a smile. Many different pieces work to make this a pure sense of happiness. By far the highlight of the collection it is full of radiant contentment. From there Liv Margaret slows things down a bit with the contemplative Sunday afternoon vibes of "I Won't". Continuing down this relaxed groove is the positive energy of "Come". Ending things off on a solid note is the tender piano work of "Gone". Rather tragic in a way it moves in a different direction from the more active pieces that preceded it. Minimal in tone it takes a while to build itself up into a chamber pop piece.
"Spinning" is a beautiful collection that reflects on the humanity condition in the most sincere way possible.
Posted by Beach Sloth – http://beachsloth.blogspot.com/