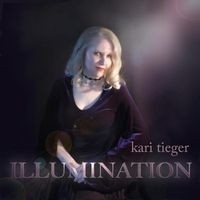 Kari Tieger is a Singer/Songwriter and Composer who writes and performs in both English and French, about love, spiritual growth and relationships. Her compositions traverse seamlessly from the realms of dramatic vampire love lore and songs full of hope for the future, to Neoclassic chamber music and jazzy instrumentals. Kari's music has also been described as adult contemporary pop with world influences. This CD (Illumination) is the latest from Kari Tangier, and it's not her first release either. This Rhode Island native/ singer-songwriter is not new at this. This powerful and eclectic album tells the story of a gifted artist who got in my own words – got lost but then found herself again through strength and perseverance. Her lyrics are intertwined with beautiful harmonies, rustic bass and drums, raw emotion and a classical-pop twang.
The CD opens really sets the mood with "Music of the Muse" which sort of stops you dead in your tracks, and mesmerizing "The Way Things Used to Be." These first 2 pieces even make artists like Melissa Ferrick, Rachael Yamagata, Tift Merritt and Dar Williams a bit jealous. These are two grand opening statements which are made up of fairly straightforward Classical-Pop songs. There is even a folk aftertaste to some of them. Many songs on (Illumination) feature catchy guitar, guitar licks, vocals, piano, keyboards, st5rings, drums and bass as primaries. Vocally Tieger works well together in unison with her music and is somehow unique and hits all her notes well. Her tone is just as personal as her melodies are. It needs to be said – there's a certain amount of mood assigned to each track as well. The first few times I listened to it I was utterly keyed up by it. These songs are not overly bright and happy either, and Tieger knows how to write you a captivating melody. What is there not to like about all of this? The strong first impression following the first 2 tracks did not subside as the album progressed forward. The next few songs "4AM Lament", "Montmartre" and "Ah Poor Bird" keep it consistent and are the strongest territory emotionally for this record. I would even wager some of these songs could have been big in the mid-'90s on Prime Time Pop Radio. There's something that screams mid-'90s when I listen to this music – and this is a compliment. Many feel the 90's were that last good decade of good folk, and I would tend to agree. Even artists like Beth Orton and Shawn Colvin had some moments that were not so bubbly like on soul stirring "Journey Song." Despite this there is hope shining through.
(Illumination) is one of those albums that needs to grow on you. This earthy offering has hidden moments of soft rock and earthy folk which add depth to the album providing a mature sound and singer/songwriter type feel to it. All songs have solid rhythm, featuring an involving bass-line that interacts well with Tieger. The overall music is excellent that not only contains strong hooks, but it seems to soar at times.
My favorite track is a tie between L'amour and Music of the Muse
Like I said this is not really a dance album. It's really vintage Classical with a very refined pop aftertaste. Like me, you'll probably like it if you want something unpretentious to put you into that mood. It's a mood album for sure and only great artists like Kari Tieger can pull it off yesterday, today and tomorrow.
URL: http://www.karitieger.com/
CD BABY: http://www.cdbaby.com/cd/karitieger
Geoffrey Smith