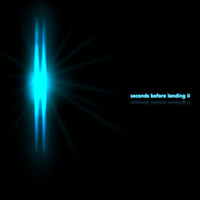 Progressive music project Seconds Before Landing headed up by John Crispino seems to making all the right moves. Make no mistake about it: he's becoming a household name around some Progressive Rock blogs I've been reading. This latest release entitled Seconds Before Landing 2 includes a few impressive names you may have heard before. Most notable this 11 Track collection 2 was mastered by 2 time Grammy nominee, and Pink Floyd engineer Andy Jackson. Also present Trey Gunn (King Crimson) and also John Palumbo from progressive rock group Crack The Sky. Also appearing, are his core group of musicians, J.D Garrison on bass, Steve Schuffert on lead guitar, Maurice Witkowski on acoustic guitar, and Jamie Peck on piano and horns. and with Vanessa Campagna & Carrie Marie Jackson on backing vocals. Do I have your attention yet?
An artist like Crispino is not about them as much it's about rebellious movement or metality. Before II get the impression Seconds Before Landing is influenced by the likes of Pink Floyd no doubt but I can also hear OSI, Gazpacho, Pain of Salvation, John Wesley and Incredible Expanding Mindfuck. Crispino more than likely is inspired by the post Prog scene, and what was I call Cold Wave, and bands that broke new ground like NIN, Spock's Beard, Katatonia and Haken. It also absorbs the contribution of Industrial bands. Distorted guitars blend with synthesizers, and drums blend with drum machines. Being on a global platform would allow him to do so much good for the genres. Straight away it's clear this 11 song CD is an imaginative return to passion filled Electronic Rock fused with the better musical touches of today Hard Alternative Rock. Seconds Before Landing also reminds me of NIN, Downface, Kyuss, and even Sisters of Mercy. It's true much of today's music has many people feeling of bit of soullessness – how appropriate I get a CD as explosive and mysterious as this. As a composer/programmer/singer/songwriter Crispino is a bit of a musical mastermind. All 11 tracks clearly put on display his experience in all of the above areas. The album begins in hooky fashion with the magnificent 'Big Train" a crisp raid on the senses, laden with hooks and impressive Saxophone and vocal front. The only surprise is that it wasn't a single on Prog-Rock stations around the country, as it is radio friendly of the highest order. 'Hey Dad" follows and is a maze-like musical journey that whips you around like a wild tornado. The thunderous guitar solidifying what could have been a hard rock number if tailored slightly differently. 'Enoch" and "What Chu Do" makes for two great closers with its exceptionally deep message and priceless feel.
In the end Seconds Before Landing headed up by John Crispino is a real breath of fresh air and a shock to everyday musical system presently in place. 'Crispino and company unleash everything curve ball prog-rock stands for. I really want to get my hands on his past material. Out of the whole album, a few songs are in the category of brilliant, 1 of them are good, and none wanting to skip in rotation. I wouldn't be surprised Seconds Before Landing continues to get more popular in the circles of Prog-rock as 2015 unfolds.
Rating 9/10 Stars
Related Article: https://rateyourmusic.com/release/album/seconds_before_landing/seconds_before_landing_ii/
URL: https://www.facebook.com/SBLMusic
Score: 5/5 Stars
Cliff Campbell