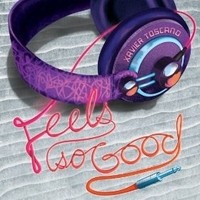 Feels So Good is pure sonic hedonism. This is dance music at its absolute best. By distilling each song down to the absolute essence of party-infused fun (catchy melody, memorable lyrics, and concise delivery) Xavier Toscano has created an incredible album. Every song lasts exactly as long as it should. Sonically the songs are incredibly well-structured – the ideal mixture of delicate and strong. Volume is a must for the songs as they are best when blasted.
Buy: http://www.amazon.com/Feels-So-Good-Xavier-Toscano/dp/B00JLJ0X5I/ref=sr_1_1
Opening up with the pop-friendly "Never Wanna Leave" the album begins on a strong note. From there Xavier Toscano moves into sleazier territory with the brittle work of "The Remedy (Feel Alright)". By far it is the best track on the album. Pacing is excellent, the beat comes in at the right moment. Xavier Toscano is aware of dance music conventions and tweaks them to keep the songs exciting. "Runaway" is a celebratory party anthem. Bass frequencies work wonders on the thick "Apologies Wasted". Moving into more sensitive territory with "Castles in the Sky". Strangely the song's title, itself a reference to a famous trance pop song of the 90s. The nostalgic feeling of the piece is highlighted by the title, referencing the optimism of so much of 90s trance.
Towards the end of the album things embrace the physical aspects of the sound like on "Watch Out It's On". High energy defines "You Make Me Feel Mighty Real (LFB Pop Remix)" which includes an out of control tempo. Ending things on a nimble note are the athletics of "Made It Look Easy". Dance music's future is with artists like Xavier Toscano.
http://www.reverbnation.com/xaviertoscano
Posted By Beach Sloth