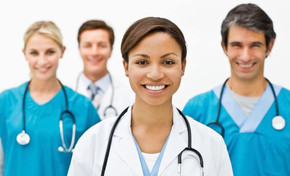 Online education has become more and more popular in the last decade to the point where you can study just about anything online. Even medical sciences! Choosing to study a health related profession online opens up the field for working professionals and for those who learn better in an online environment. Here are the five top medical degrees to pursue online:
1. Nursing
While it is not yet possible to pursue an associate degree in nursing online at this time, it is entirely possible to continue your nursing education once you have obtained the associates. You can choose to complete a bachelor degree, pursue an RN to MSN program, and even complete a Ph.D. in nursing all online. Possibilities include a bachelor of science in nursing, a nurse practitioner program, or a nursing education program.
2. Medical Assistant
Medical assisting programs can be taught entirely online. This will allow you to work toward working alongside a practitioner in order to care for patients. Medical assisting is an associate's degree that is easily used in anywhere you might live. It provides a similar salary to a practical nurse, but does not require quite same amount of clinical work.
3. Healthcare Administration
This is a great bachelor or master's program for a working professional who has experience in a business or office environment but would like to move into the health field. Healthcare administration degrees will not require clinical work offline, so they are fairly easy to fit into your schedule.
4. Radiology
Often referred to as x-ray technology, radiology is a field that is very easy to follow in an online format. Radiology is a versatile degree. You can work in just about any type of healthcare setting. You can earn either an associates or a bachelor degree in radiology online.
5. Physical Therapy
A few schools are beginning to offer a doctor of physical therapy degree online. The program generally includes most classes online with weekend or week-long clinical practice sessions. These are designed for working professional students. Physical therapy is considered one of the most lucrative medical career fields.
Medical careers are becoming more common online, and in the coming years, you can expect to see a wider variety of options and formats. However, for now, there are still plenty of options for online learning within the medical field. With all the great choices for degree completion, there is no reason you can't get started on your way to a healthcare career today!