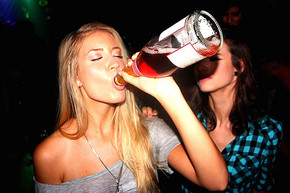 Congratulations, you've made it through two decades of feedings, dirty diaper changing, teenage angst, and other trials and tribulations of those about to turn 21 years of age. However, for some, the 21st birthday introduces another trial associated to alcohol consumption, getting people sick, or worse, hurt in the process.
You don't have to invite alcohol along to your 21st party. Actually, a mélange of things have nothing to do with sipping on the sauce. Of course, there are activities that you can do on your birthday without becoming alcohol dependent. Here's a full list:
Horseback Riding
You can't drive a car under the influence, and it's definitely not smart to ride a live animal without all of your wits about you. However, the occasion is exhilarating. Locate a horse farm in your area, or take a trip out to the country for a once-in-a-lifetime equine experience.
Amusement Park
What's better than getting too drunk to stand? It's sitting in a number of roller-coasters and other amusement rides. Choosing an amusement park destination for your 21st birthday may seem childish, but so is drinking until you get stand on your own and vomiting all over yourself. Amusement parks maintain a brand of charm lost on those entering adulthood. Return to the amusement park and rediscover a lost sense of youth.
Sporting Event
Do you have a favorite sports team or enjoy being at the park for a live event? Vendors rove the stadiums selling alcohol, but that's but an optional element of attending games. Root for the team, walk the stadium, and enjoy the foods and non-alcoholic beverages served.
Outdoor Fishing
There's something about the tranquility of the ripples and the privacy of being out in the open water that's unparalleled on land. Of course, merry skippers and first mates bring along beers and beverages to enjoy on the water, yet operating a boat under the influence is illegal. Additionally, being drunk and around water is not a safe combination. Grab a few rods, lures, and friends, and rent a boat for the birthday occasion. It's a good way to spend the special day with great friends.
Costume Party
Dressing up is fun; that's why kids and adults alike do it each year on Halloween. Yet, you'll find scores of costume parties taking place throughout the year due to the involved fun and entertainment. Host a costume party dedicated to an era, movie, or theme. Moreover, disguise the alcoholic punch by providing non-alcoholic contents within. The sober decision ensures all guests leave safely and there are no irritating or unexpected behaviors during the festivities.
Birthday Olympics
The Greeks would celebrate with contests of strength and skill. Without the need of togas and alcohol, establish a number of trials for partygoers and turn the birthday party into a contest of strength, skills, and creativity. Have members enter contests as teams or individuals, reserving cool prizes from the Spencer Gifts store for winners.
Tasty Smorgasbord
Invite friends over for a potluck-style birthday filled with an array of appetizers, soups, main dishes, and desserts. You don't have to fill your stomach with alcohol on your 21st birthday. Rather, enjoy delectable foods, good company, and a jolly belly that won't make you sick. Ask friends to make special dishes or bring over a surprise birthday dish.
Dance Party
Dancing is fun, healthy, and keeps a smile on the faces of those entranced by the sounds that inspire movement. Host a dance party replete with hired DJ and rented dance floor. If weather allows and you can keep the noise minimized as not to disturb, host the party in the backyard or a public park.
Day Spa
Spend the day at a spa. Get massaged, a new haircut, and an assortment of hair and skin treatments. Your 21st is a day to pamper your body, and not abuse it with a copious supply of alcohol. Find a spa in your area, or make attending a part of a larger birthday destination experience.
Birthday Destination
Is there a place you always wanted to visit? Use your 21st as a reason to take a trip to a new place rather than multiple trips to the bathroom due to an excess of beer consumption. To make it more special, preplan and ask a number of friends to come along. Taking trips as a group saves a substantial amount of money regarding hotel stays and restaurant accommodations. Use travel search engines to find great deals on remote locations.
You need to have a blast on your 21st birthday, but you don't need to get 'smashed,' drinking an excess of alcohol. Take a trip, ride a horse, or start dancing, opting to reserve alcohol for another time.
William Riendeau is a writer who has raised four children with his wife of 30 years. Whenever he has the chance, he likes to sit down and share what has worked for them. Look for his informative posts mainly on parenting, lifestyle and entertaining websites.