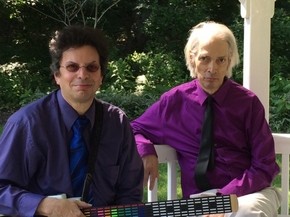 The wait is finally over as both Les Fradkin & Michael Brown have created something very special here with the release of their latest song titled "As Eagles Fly In The Night". Les has always wanted to collaborate with Brown instrumentally and Michael has dreamed of doing an all-instrumental album throughout his entire career. The timing is obviously right for both musicians and the stars are now aligned. These two artists have had very successful careers within the music & entertainment industries. Fradkin is an innovator on the Starr Labs Ztar along with playing George Harrison in the original production of "Beatlemania". Fradkin even produced hit recordings for: MGM, Sunflower, Laurie Records, RCA, Arista, Bell and ESP-Disk. He is also inducted into the Television Producers Music Museum Hall of Fame for his groundbreaking work with Score Productions and ABC-TV in the 1980s. On the other side of the coin, Michael Brown had the pleasure of writing one of the "Top 500 Songs of All Time" voted by Rolling Stone Magazine for the song "Walk Away Renee". As keyboardist/composer for the group The Left Banke, Brown enjoyed a string of hit singles including of course "Walk Away Renee" along with "Pretty Ballerina". Other groups Michael fronted were Stories, who had several Top 40 Hits, and The Beckies. Brown also did some producing for the band Montage for Laurie Records and since then Michael has basically been out of the music loop. That is until Les Fradkin entered back into the picture and the duo performed a masterful recording called "As Eagles Fly In The Night". A dream is born and the rest is history!
J Rae: "As Eagles Fly In The Night" is a collaborative effort by Les Fradkin & Michael Brown and this one must feel pretty special since you haven't seen each other in 36 years! When you shot the video for this single at Michael Brown's home what was the initial reaction for both of you? And I'm dying to know what was said at that moment as I can bet emotions were running high that day with a lot of catching up to do!
Michael Brown: "We had great anticipation, knowing that something special was beginning with 'As Eagles Fly In The Night.' We were excited to get together and meet. I was happy that Les was able to make it to New York City so we could get together and make this video happen."
Les Fradkin: "I had always wanted to do something like this with Michael. We did the catching up before we shot the video!"
J Rae: Interesting story behind the making of "As Eagles Fly In The Night" is that the process of creating this song was done entirely online. This seemed to be the perfect match as it allowed for complete artistic freedom on both ends. Was this the intention all along and how did it all play out as you were recording this track? Was it smooth sailing from beginning to end or perhaps just a few bumps along the way?
Michael Brown: "It's kind of been a dream that I've always had… because the truth is, for me to be able to develop musical ideas, especially at the beginning of a composition, without interference, is important. Once the song is newly constructed, then I look forward to collaborating; it's been my desire. And with Les, this was able to be realized. He was willing to work with me this way, and we've enjoyed it. I especially enjoy interacting with Les, as he is a talented musician. It's refreshing to work with somebody of his caliber."
Les Fradkin: "The geographical distance between us made this creative approach a necessity. But, as Michael states, it was important to his personal creative process. And it was no problem for me because I totally respect his compositional approach. As a producer, I understand how he thinks. As a collaborator, I can always count on his and my ideas to bring great music to life.
J Rae: Another interesting twist behind the music is that over 30 years ago Les you expressed interest in doing an instrumental set with Michael Brown but it didn't pan out for whatever reason. And Michael has always wanted to do an instrumental record throughout his entire career. Well then, this has to be a Eureka feeling for you guys! But my question to both of you is why did it take so long and did the project turn out exactly how you envisioned it?
Michael Brown: "I have a YouTube channel for some of the work I am doing from time to time. I've had it for some years. Earlier this year, Les commented on one of my songs, and we began a dialogue through my son, Skylar (who manages the account). We discussed the possibility of joining together, and a project emerged. Today's technology enables us to truly collaborate at a distance, so I guess that's why it had to wait 'till now. As for envisioning the songs, you never know, until they're developed, what they'll be."
Les Fradkin: "And I have a YouTube Channel that I self-manage which gave Michael and Skylar a very good idea of what I've been up to lately. The Ztar and my approach with MIDI Guitar was new to them, but seemed to be inspiring for this collaboration. As Michael says, you never know where you are, until you're there."
J Rae: With Pop/Rock/Classical elements all shining through on "As Eagles Fly In The Night", what type of audience are you trying to draw in here?
Les Fradkin & Michael Brown: "People with an appreciation for a classical flavor in Baroque rock & roll."
J Rae: I saw that "As Eagles Fly In The Night" climbed to #48 on the iTunes Top 100 New Release Rock Charts during its first week of release back in August. Is the song still currently on any charts?
Les Fradkin & Michael Brown: "Yes."
J Rae: Curious as to who came up with the title of the song and what it signifies?
Michael Brown: "I came up with the title. The song itself gave me the image. Eagles are a symbol of freedom."
J Rae: With the innovative Ztar playing from Les and the fine piano playing from Michael I'm sure you guys are very proud of the end result. Actually, what was the first thing you both said when you heard the final cut of "As Eagles Fly In The Night"?
Michael Brown: "For me, with 'Eagles,' it was exciting to hear it finished… and there are follow up songs we're doing that are equally, and maybe even more thrilling!"
Les Fradkin: "What was the first thing I said? "Wow!" I knew we had something different."
J Rae: When listening back to your song are there specific parts that stand out to you personally? Anything your hearing that pleasantly surprises you or even blows you away?
Les Fradkin: "The hook is terrific and the playing is among our best."
Michael Brown: "I love the release in this song, and Les' hard rock guitar feel."
J Rae: How does the making of "As Eagles Fly In The Night" stack up to all of your previous material that you've both worked on through the years? How high does this one rank on the list?
Michael Brown: "It's high on my list, because I've wanted to have an album without lyrics. I've wanted it for a long time."
Les Fradkin: "I'm very proud of this recording. And I'm thrilled for Michael as it helps him realize a long time dream."
J Rae: After hearing "As Eagles Fly In The Night" in full are you 100% satisfied with the results OR are there some minor changes you would make now that you've had the chance to listen back a few times?
Les Fradkin & Michael Brown: "It's done."
J Rae: Following up with your latest single I heard through the grapevine that you'll both be working on an entire instrumental album. Is this true and if so any exact dates you can give at this point as to the release? And what can listeners & prospective fans expect to hear from a Les Fradkin and Michael Brown instrumental record?
Les Fradkin: "We're hoping to have the full album complete for an early 2015 release. The material will impress. And fans will be in for some innovative treats. A couple of the tunes could shape up to be hit records."
Michael Brown: "I guess that I answered that a few questions ago, and yes, I am thrilled at what's coming! Prospective fans will be happily surprised."
J Rae: Any plans of touring together and any thoughts on how you would fully execute this?
Les Fradkin: "As I'm fond of saying to Michael, I intend to "take it to the people!" I'm looking forward to any live performance Michael chooses to participate in. Whether we do a live show as a duo or with backing musicians, or how we plan to do a live production, it's too early to offer comment."
Michael Brown: "I prefer to be in the studio mostly; I'd do a night or two if it was close by in the NYC area."
http://www.reverbnation.com/lesfradkinmichaelbrown
https://www.facebook.com/lesfradkinmichaelbrown
https://itunes.apple.com/us/album/as-eagles-fly-in-night-single/id905692153
http://www.amzn.to/1q7l69H
https://www.youtube.com/watch?v=mytknRH6DxY
By Jimmy Rae – jrae2@att.net