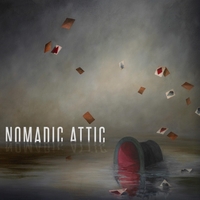 Now here's something – hear something by Nomadic Attic!
On this self-titled you'll find five songs of true atmospheric brilliance, all unique in their own right, all coming together perfectly as one on this new self-titled EP. There's a captivating, almost hypnotic quality that can't be mistaken on Nomadic Attic's EP…great tunes here – turn it up!
Starting out with the opener "Bark The Moon," this indie-folk-rock band takes you straight into the open and into a driving, spacious beat with all the wide-open possibilities of a dream. I must say…I really dig being hooked in by the opening track…sometimes it's awesome to just hear it, have it come at you like this does, and not have to listen again to be convinced that what you just heard really WAS that awesome. Right from "Bark The Moon," there was no confusion here, no salesmanship necessary – this really IS that awesome.
http://nomadicattic.bandcamp.com/album/nomadic-attic
The pure-pulse of the indie spirit runs heavily through the second cut, "Mutiny." It's a beautifully melodic pop-indie track that really carries an all-encompassing feel to it. With a slow & steady, nearly borderline reggae-vibe to it…this track is a complete winner with its fantastic harmonies and incredible songwriting leading the way. Speaking of, "Strong Man," the middle cut from the EP is another standout for vocals, but also for the incredible subtly strong music in behind. Everything from the guitars, to strings, to keys…it's all perfectly assembled and arranged, feels completely natural and 100% authentic. Though there's influences I feel creep into the music that may/may not be relevant, bands like Sparklehorse, Pavement, Cracker…there's elements for sure, but never once so dominant that they take over and lose their own sound; Nomadic Attic is completely unto their own.
"To The Ridge," is what I'm looking for. And I'm completely thankful it's here; can you imagine trying to describe a specific tone/feel of a song you wanted and receive exactly what you were looking for in return? If someone had asked me – I would have tried my best to describe THIS sound, the specific pop-indie bliss that is found on "To The Ridge." It's just wicked in the containment and restraint on this track…I'd be losing my mind on this one, probably overkill the vocals; but not from Nomadic Attic, they've got the right ideas for sound and scope. While this could have been a nearly Modest Mouse style freak-out of a track, Nomadic Attic steers it all in a much more chill direction, think of something like The Dandy Warhols and Modest Mouse finding a perfect way of working together…that might be close…
The final cut from the EP, "Renee" is another fantastic tune. There's a little something about this band that puts the twinkle in your eye…the sugar in your coffee…I'm not sure WHAT it is exactly…but I know that this EP has me instantly rooting for this band…there's just something about them that makes me WANT them to succeed. If I'm hard-pressed to put my finger on it…it's the winning combination of perfect melodies alongside inventive pop-indie music with real texture and creativity, that's more than likely the reason why I wish nothing but success to fall upon Nomadic Attic. There's a sincerity here that I can't help but absolutely love; this EP is all kinds of indie-gorgeous.
By: Jer@SBS – http://www.sleepingbagstudios.ca