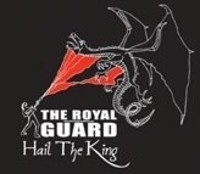 The Royal Guard are: Todd Davidson (Lead Vocals, Guitar), Andy Ascolese (Guitar, Vocals), Fred Scragg (Drums). Upon returning back home to NYC after living 5 years in Eastern Europe, Todd was ready to create, exciting music that can reach young people. First he called Fred. They worked great together but something was missing. The next call was to Andy and everything started falling into place. These latest group of songs are from their upcoming full length album entitled "Hail the King" Due on the streets any month now. These 5 new songs from The Royal Guard capture classic modern hard rock at its best. It's pure full tilt Alt-Rock the way it used to be via full-tilt playing and hooky soulful grooves. The ultimate in musical intoxication.
Their clean/dirty sound is very much their own but the style is primarily drawn from the melodic and energetic 60´s/70's and likewise from the edgy progressive rock of the 90's. The band combines symphonic and grandiose expression with the urge to write melodic songs, always non-compromising and exploring new frontiers. The Royal Guard will take you back to a better time, a time when distorted guitar actually existed in music. Yes – distorted guitar! "Hail the King" opens with "I Wanna Know" and "Why Can't We Be Together" 2 grand slam numbers with loud guitar, drums, bass and solid vocals to boot! "Save Me" and the title track really sealed the deal foe me. The 5th and final track "Going Down" lets it all hang out with catchy vibe full of intrigue, power and burning embers. One thing that impressed me about this album is the attention to detail and overall production value. There is an ambience that really sucks in the listener into their world of rebelliousness. The instrumentation and tones give you that genuine feel of good music from generations ago. I especially like the sonic reverb soaked guitar tones and harmonies – brilliantly mixed. Also present – cool sound effects, keyboards just where they need to be. These 3 have a good visual as well and spent several years in Italy before returning to the US. They now reside in NY. The Royal Guard are very marketable and a hell of a strong band live. They invoke bands like Arctic Monkeys, Vampire Weekend, Jake Bugg and Two Door Cinema Club. In many ways Davidson is the strong card here – who when combined with the other 2 members capture the adventurous spirit of this music works extremely well. He's a good singer. This will ring true not only for old listeners but new ones as well.
"Hail The King" 5 song sampler wraps up a well-rounded superlative teaser from The Royal Guard. All tracks provide an interesting cross section of classic Psychedelic Alt Rock popular 10+ years ago – but still fresh and alive in Countries like Europe and Italy. This makes me happy. How is this possible? Only a 'Shooting Star" persona can pull it off and yes this band is like a shooting star. Music like this is sorely missing from the 2014 repertoire. The Royal Guard fills this musical void, they can hold their own against any hot running youthful bands out there right now.
Reverbnation: http://www.reverbnation.com/theroyalguard/song/21505435-hail-the-king
Official URL: http://www.theroyalguardband.com/
Score: 4.5/5 Stars
Robin Crowson