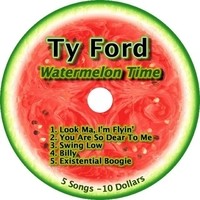 Bio: In his own words: My mother bought me my first tape recorder when I was nine. I bought a used Rhapsody 6-string in 1964 and began to play guitar. I wrote some but mostly did folk tunes and other songs I liked. I also played a lot of acoustic guitar instrumentals. Time happens but I'm still doing that today. I found the Baltimore Songwriters Association. I'm writing more now, working on my craft and have a 5-song EP called "Watermelon Time" for the effort. I have a wonderful Fishman SoloAmp PA. I like playing small venues. I can play background instrumentals for omelet consumption, do the singer-songwriter thing or accompany someone else. I'm fairly handy on the djembe, but don't own one. I'm mostly a baritone, so people say I remind them of Johnny Cash and Leonard Cohen. Although I do have a higher range, when I'm playing and singing with others, I usually hang out in the basement under the tenors. His latest 5 song EP is entitled Watermelon Time" (2009).
Ford is obviously vocalist is an accomplished singer/songwriter recording who hails from Maryland. Each style, each song on this CD expresses something a bit different than the other – a complete moment if you will. To me it's comparable to looking into then suddenly experiencing what it is to be inside a snapshot of time. Some of the snapshots are silly or laugh-out-loud funny. Others are of contentment, exuberance, sadness, reverence. It's a time capsule of time. "Watermelon Time" presents 5 gems and gently creates the classic blues-rock-pop musical environment right away with stoic lead off Track 1 "Look Ma' I'm Flyin'" with its almost classical acoustic guitar overtones that will remind you of Adrian Legg with its harmonic exuberance. Some songs here benefits well from a powerful generation of musicians with similar interests in classic rock but varying tastes still appealing to modern contemporary fans. With a sound ranging from classic blues-rock from the seventies Ford delivers a unique sound that translates well to the listeners world. The next few tracks "How Dear You Are to me" and "Swing Low" present more marketable pieces both are both clever and alluring. Some pieces that highlight a full band are my favorite: Swing Low" and the amazing closer "Existential Boogie (Be Here Now). Some track possess an amazing Soulful-Bluesy feel that will inspire you to get up and dance – I am serious. On these track Fords brings the mojo – and then some. I only wish there were more songs like these 2 on the EP/album. Music is self-deprecating, melancholy and boldly honest "Passing of a Friend", "Bernadette" and the title track.
The keys and notes fall smoothly yet so effortlessly and with every second that passes as if these notes and words were meant for each other. The acoustic and slow rhythmic pace of many tracks can quickly shift and change at a moments notice making music somewhat unpredictable in places. Overall this EP is rich with musical flavors, textures and top tiered playing from all involved. As a singer Ford s comfortable within his own skin and pulls it off flawlessly almost like Eric Clapton. I can also hear Townes Van Zandt, Loudon Wainwright III, Steve Goodman, Delbert McClinton and Hot Tuna. Ford may not have the greatest voice in the world but hey it works, besides he brings other skillsets to the table like his impressive Acoustic Guitar playing and overall songwriting. Ford possesses an immense amount of talent and creativity and has an adequate amount of talent very compatible to this style of music. The presence from Ford just bring the whole thing together via his somewhat whimsical charm that bleeds red, shite and blue.
"Watermelon Time" by Ty Ford is truly a highlight release with some incredible moments that portray true grit emotion and will sure to evoke some strong reactions from many. I assume it's an EP. If not he needs to add many more songs to the table.
In the end "Watermelon Time" by Ty Ford is a very suspenseful musical experience all around and regardless if you like your music happy, sad, short, sheet, overly synthetic or long I guarantee Ty Ford will cause you to feel something powerful.
PURCHASE LINK: http://www.rhapsody.com/artist/ty-ford/album/watermelon-time
URL: http://www.reverbnation.com/tyford
Rating: 6/10 Stars
Doug Huffman