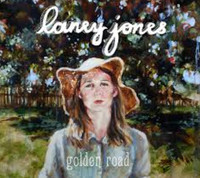 Steeped in the traditions of folk, jazz, and rock and roll, Laney Jones mixes a musical cocktail with a vintage flavor that's all her own. Honing her craft and effortlessly welcoming stage presence in coffeehouses, speakeasies, and concert venues across the United States, this scrappy Americana singer-songwriter is making a name for herself as a fresh, lyrically creative artist. Her distinctive voice has been described as "a mix of lemon, molasses, gin and gunpowder*," mellifluous and smooth but brimming with passion.
I have to say I was extremely impressed with the opening 3 tracks "Broken Hearts", "Devil Woman" and "Black Coffee" They made quite the first impression and each one possessed my full unadulterated attention. To be honest: I expected cheesy Indy Folk Rock that was extremely predictable and shallow in nature – very compatible for a mass audience. What I discovered was actually quite the opposite. The whole CD is wonderfully conservative yet full of what I would call explosive energy with music that appeals to so many different senses on so many different levels. At times it does reminds me of Lucy Kaplansky, Kirsty McaCol, Jewel, Kata and Anna McGarrigle. On the other side of the sonic spectrum I can hear Bonnie Raitt and Eddie Brickell. One can appreciate the soulful folk textures, blues, and Americana-rock influence in there as well. I've noticed most Floridians are very good at this style of music what can I say. What I really like about Jones is there is no attempt to sugar coat the truth or deliver what I call over the top alt rock. Cheesy music with an over the top front man via top flight sampling, cookie cutter songwriting via a mix that sounds more like a commercial than a piece of music. None of the above here! "Golden Road" will also appeal to both advanced and novice listeners alike – but make no bones about it this is soul rock folk reminiscent of the greatest decade Rock n' Roll has ever known. Yes I am referring to the 70's. Her strong suit is her musical instincts behind the microphone and within the piece as she conveys uplifting emotions all compatible to the moment. Whatever kind of listening level you're on – some will identify with things while others will not. Like a three layered cake "Golden Road" is one release that has a lot of depth and has so much to offer. Weather it's musically, lyrically, inspirationally, emotionally, spiritually – if you feel like music is taking us in the wrong direction than rest assured Laney Jones is taking us back in the right direction with this release.
Criticism: I wish there are 2-3 really serious or more emotional songs on the album.
Bottom Line: Laney Jones will affirm your faith in music again. She is a unique, hardworking Florida based artist that doesn't need anything handed to her, and knows their way around a stage. "Golden Road" delivers action packed musicianship, entertaining songwriting and music that covers all the bases: rock, soul, folk, blues and Americana.
Rating; 3.5/5 stars
Primary URL: http://www.laney-jones.com/
Purchase Link: http://www.amazon.com/Golden-Road-Laney-Jones/dp/B00DYMCWAM
by Janet Sturham