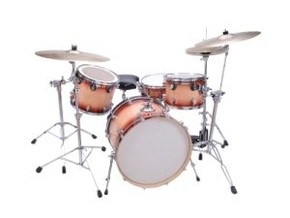 Musicians often have a tough time finding a place to live. Not only do bands have a reputation for trashing hotel rooms, prospective landlords can easily find reasons to turn down a musician's rental application. Prospective tenants' history is usually screened to check for factors such as disruptive behavior. Excessive noise, like that from playing drums, can be considered disruptive and lead to a rental application being denied.
Fortunately, musicians, even drummers, don't have to give up playing their instruments at home in order to find a place to live.
Practice Pads
Practice pads allow drummers to practice their technique while generating a minimal amount of noise. Some practice pads can be arranged in the same layout as an actual drum set. Practice pads differ in the way they feel and sound to a drummer. Some are designed to have the same bounce as a drum; others may be harder or softer. If made from soft foam, there may be no sound generated at all. Harder practice pads generate a muffled noise.
Besides practice pads, there are practice pedals as well, for floor drum work. Often the tension of these practice pedals can be modified to develop leg muscles as well as practice drumming. Some practice pedals come with disks that allow the pedal to generate low-noise sounds rather than a completely silent practice.
Acoustic Drum Sets
Acoustic drums differ in the noise levels they generate based on their size. Larger drums create a louder sound. The volume also depends on how hard the drums are struck. Using lighter drumsticks can also soften the noise, as will using a brush rather than a stick.
Drum mutes let a standard drum set be played while the sound is completely muffled. Drum mutes are pads that are installed on the actual drum surface. There are mutes for cymbals as well. These pads allow the drum to be played in a completely natural way that keeps the drum quiet while also keeping the feeling of playing a drum. There is some loss of rebound so fast rolls may not be possible. Drum mute pads are quick and easy to install and remove and are an excellent way to set up for late night or apartment practices.
Electronic Drum Sets
Electronic drum sets can be ideal for those in apartments. While they don't have the look and feel of traditional drums, they have several advantages. Many electronic drum sets are compact, though some can be laid out similarly to traditional acoustic drums. More importantly, electronic drums are completely silent unless they are connected to a sound system or amplifier. This means drummers can play them as much as they want without disturbing anyone else. A drummer can wear headphones when playing an electronic drum set, so the play isn't silent to the drummer.
Another advantage of electronic drum sets is that any sound can be assigned to any of the pads in the set. This means that electronic drums can be totally customized. Drummers can create any percussion sound they want without having to purchase separate physical instruments.
Conclusion
Drummers don't have to be homeless. Using practice pads, drum mutes or electronic drums lets drummers practice their instrument in shared living quarters and still be good neighbors.