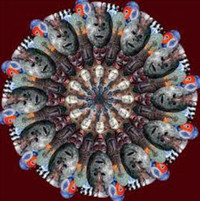 Strength and Kindness is a Jazz Project based out of San Francisco. This latest CD entitled ""Somebody' Else's Nightmare" (2014) is a powerful and eclectic album tells the story of a gifted player/composer with beautiful melodies, a smooth playing style, that is emotional and at times very refined sonic feel. I am talking about the musical mastermind behind all this Joe Holiday who also plays Bass on the project. In his own words: As the bandleader, my job is to develop a musical style, compose in that style and guide the interpretation of the compositions. The goal for this project was to perform music that was both written in "parts" and also meant for improvisation.
Lately with Movies/Film in particular the emphasis seems to be shifting from a good acting or effective character development to things like Special Effects and visual flash. Music is following down the same path. With Music the emphasis is shifting from good genuine songwriting and Top Flight vocal ability to more visual flash, cookie cutter songwriting, autotune theatrics and overly choreographed performances that lack spontaneity. For the most part Holiday isn't necessarily great at many things, he's great at one thing – playing his Bass. My hats off to his for stepping up to the mic and letting his soul speak a clear extension of his "soul instrument" put to good use. With Holiday the genuine songwriting quality is there, the performances are pure gold, and the messages are clearly felt. "Destination Nowhere" is a lighthearted showcase of fine musical and instrumental ability. My favorite songs are: "Again Down", "Drones", "Destination Nowhere" and "Generic Happy Song". Sure his vocal talents may not be to the level of world class Jazz singers – but he gets his point across in spades with amazing grace, finesse and touch. Holiday needs to come out of his shell a bit more vocally. Despite this his voice just seems to work very much like Donald Fagan (Steely Dan). Holiday also possesses strong musical instincts behind the instrument as he knows how to turn it on and fade in the pocket. In this aspect he reminds me of Jaco Pastorius, Chuck Rainey and Jeff Berlin. All instrumentation equal parts intimate, equal parts intricate providing the perfect underpinning each song needs to make a real connection with the listener. Musicianship is undeniably appealing from all involved. Also worthy of note is the crisp production work, which does a definitive job in highlighting the band's strengths while keeping a nice sonic flow in the process.
The more you are emotionally in-tune with this message and music, the more powerful his lament will become. I find myself more intrigued by this concept, although the concept by itself is at best a loose thing that is hard to pinpoint. In other words you have to be in the mood to fully grasp this record thus maximizing the impact. When I eventually got to that emotional place some of the songs became overwhelming. Holiday's songs have punch, variety and emotive impact compatible with reality – and this is the beauty of the title and concept that is "Somebody' Else's Nightmare". Like the title implies, it's like having the world in your pocket – or maybe things are going your way. It's all relative, of course, and fans of Paul Brown, Paul Taylor, James Taylor and Peter White will no doubt love Holiday for it.
In close Joe Holiday is not some tacky superficial artist trying to get your attention; he is a very master artist who knows exactly what he's doing on stage or in the studio. He is for real, this music is real, and it's what the world needs right now – a Piece of Heaven.
PURCHASE LINK: http://www.cdbaby.com/cd/somebodyelsesnightmare
URL: http://www.senightmare.com/
Score: 4/5 Stars
Thom Yost
Review comments: therandbrand@gmail.com