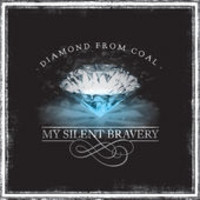 "Diamond from Coal" is an album full of hope. The sound shines with cautious optimism about the future. Vocals are earnest. At times the songs embody the joy of "The Polyphonic Spree" with its giddy sensibilities. Synthesizers are prominently displayed throughout the album helping to emphasize the gleeful nature of the work. The many different styles and textures on the album are utilized in the best possible fashion.
"Forever" – https://www.youtube.com/watch?v=nEcwbN30i6Q
Nowhere is this enthusiasm for life more evident than the energetic opener "Amazing". Playful both lyrically and instrumentally the song is one of the album's main attractions. This energy continues on "P.O.V." whose narrative sensibilities work wonders for the track, with a nice neon hued synthesizer acting as the backbone of the piece. Slowing things down on the country-tinged "Forever" My Silent Bravery goes for an intimate heartfelt ballad. "High On Life" blooms with infectious energy. Opting for a delicate arrangement on "Windows" the song shows off My Silent Bravery's tasteful work. Piano and strings create stunning textures on "Windows". Easily one of the album's highlights it displays My Silent Bravery's uncanny knack for melody. A comfortable groove defines "Believe" alongside with a clear nod to the power of confidence and faith. Taking on a summery sound with "Tears" the song's incredibly easy groove matched with ebullient synthesizers work wonders.
Ending off with the grand sweeps of "You Shine" the album finishes off on a high note. "Diamond from Coal" is an album about the power of hope and faith in life.
http://www.mysilentbravery.com
http://www.twitter.com/mysilentbravery
http://www.facebook.com/mysilentbravery
http://www.instagram.com/mysilentbravery
Posted by Beach Sloth