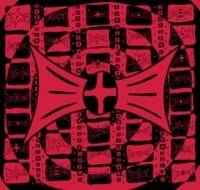 Rainstick Cowbell (Scott Arbogast) in an interesting Slop Folk artist based out of Portland, OR. As I gave this, his fourth release to date a right and proper listen I have to agree with the slop folk comments – but it also has remnants of classic Psychedelic Rock. I'm a huge fan of Psychedelic rock. Pioneers like Pink Floyd, Syd Barret for example provided music that was a bit weird but also very real and somewhat comical all at the same time. They don't call it Psychedelic Rock for nothing.
Whether my mood is upbeat or downbeat, serious or playful, extroverted or introverted, there are musical choices aplenty to complement, enhance or counteract it on this latest CD by Rainstick Cowbell "Hand over the Heart" It has everything the title implies and more. In my own words I'll call it powerful, very real and at times a bit harmlessly haunting. On this 11 track set expect a jagged edge Psychedelic Folk/Rock musical combination with a Pacific North-West type of indie-folk zip – in the vein of Pearl Jam and Nirvana (writing style). It has flavorings of creep rock that's a little bit out of control, chaotic, perhaps surprisingly for someone whose primary genera is Rock, the emphasis here is not on simple 4/4 rhythms shall we say. No Arbogast digs deeper than that. Early tracks "Uncle Merv comes home to try to save the farm" and chilling "The Perils of Patriotism." I quickly discovered most songs have a contemplative feel, becoming almost hypnotic in places. The rocked out textures of this 3 piece sonic production are especially evocative. (3 piece being guitar, voice and sound effects.) "How I want to Be Among You" has a very psychedelic, progressive dance-rock feel to it, lending more towards a David Bowie feel but it could even be called dare I say – mainstream. Some tracks are a bit emotional and a little too honest yet brilliant nonetheless "Coming in for the Perfect Kiss" and "This way Lies Madness, Not Meant for People."
My top track is "This way Lies Madness, Not Meant for People."
Arbogast at times reminds me of: Peter Gabriel, Robyn Hitchcock, Syd Barret and Acoustic Pink Floyd. All tracks have a particularly steady-thrumming bass line that adds firmness and tension. Vocals from Arbogast are extremely unique and off the hook good. All songs are a return to straight Psychedelic Folk Rock with a stuttering rhythm section underpinning some terrific work from all involved. Rainstick Cowbell is one Portland based artist who has paid his dues all around the world, as he has played over in Europe, besides numerous shows around that region. I get the impression he is interesting to see live.
This CD "Hand over the Heart" will be a great pickup for those who like Psychedelic Punk rock with an unplugged musical foundation. If you're in a tripped out mood or looking to instill a trippy one check out the music of Scott Arbogast via the below link. While this is music you could work or play to, it's most suited to a more mind melding contemplation. Now isn't that something we could all use a little more of in our lives right no? Rainstick Cowbell sets it all too well.
Reverbantion: http://www.reverbnation.com/rainstickcowbell
URL: http://rainstickcowbell.com/
Aaron Hunt