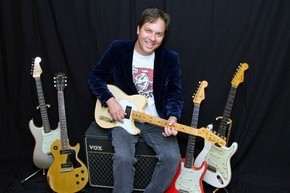 Tom Guerra, from Hartford Connecticut, has been around since the late 70's writing songs and playing his guitar with a variety of blues, rock n roll and R & B bands. Over the years, Guerra has recorded or played with Rick Derringer, The Dirty Bones Blues Band', Max Weinberg, Mark Nomad, Sticky Fingers (for which Tom wrote and arranged original music for the group's debut cd), The Easton Brothers with Muddy Waters bassist Charles Calmese, Jai Johanny "Jaimoe" Johanson from The Allman Brothers Band, Second Son, Guitar Shorty, Adolph Jacobs of The Coasters, Kenny Aaronson, and The Delrays, for which he received acclaim from Buddy Guy.
In 1999, he formed Mambo Sons with singer Scott Lawson. Their debut album featured guitar legend Rick Derringer. This twelve-song effort contained both new music as well as songs the two had originally written a decade before. Mambo Sons second CD "Play Some Rock & Roll!" (2002) was named top indie release of the year by NYRock magazine, and their third "Racket of Three" was called album of the year in Pattaya Thailand by legendary rock and roll author Mott the Dog.
In 2009, at the request of legendary guitarist Johnny Winter, Tom created the liner notes for Johnny's latest release "Vol. 4 – The Bootleg Series." Tom has subsequently written liner notes for other Johnny Winter albums as well. In August 2009, Mambo Sons released a 20 song double album entitled "Heavy Days". In early 2010, Cleveland's "Rock and Roll Report" named "Heavy Days" the best straight ahead rock and roll recording of the year. The band has a large cult following in the Northeast United States as well as a substantial fan base throughout Eastern Europe and Asia.
In 2012, Tom switched focus to his studio guitar service, helping other artists with their songs, arrangements and recordings. Of the hundreds of songs Guerra has written, two numbers have earned considerable praise for their positive and healing nature despite the gravity of subject. Immediately following the Sandy Hook school shooting in December, 2012, Tom wrote and recorded "Love Comes to Us All" to hoor the impacted families. In early 2013, Tom wrote and recorded "Put Up Their Names – The Ballad of the U.S.S. Frank E Evans" to honor the 74 sailors lost aboard the U.S.S. Frank E. Evans Naval disaster off the coast of Vietnam in June 1969. According to Guerra, the purpose of the song is to bring attention to the U.S. Government's refusal to list the names of the 74 who died on the Vietnam Wall.
In 2014, Tom Guerra released his first ever solo album "All of the Above" featuring 11 new original songs, and featuring both Morgan Fisher, pianist from Mott the Hoople and Queen, and keyboard whiz Matt Zeiner on piano, clav and Hammond B3.
When did you start playing guitar and composing music?
I grew up listening to music with my parents and brother and sister, and we all were huge music fans. As a kid, I was always consumed with drawing things, and then I went away to a private high school that really didn't have an art program. It was around this time that I started playing guitar and almost immediately afterwards, started writing songs. Years later, I figured that inner desire to express myself through art simply switched mediums at this point, from physical art to sonic art.
Who were your early inspirations?
My early inspirations from a songwriting perspective were Lennon/McCartney, Jagger/Richards, Bob Dylan and Sly Stone. From a guitar perspective, as a kid growing up in the 1970's, I loved Jimi Hendrix, Robin Trower, Rory Gallagher, Jimmy Page, Hunter and Wagner, and all of the Rolling Stones' guitarists.
Considering all the name artists you have worked with….who is your favorite?
I think out of all the musicians I worked with, I'd have to say the guys in my last band "Mambo Sons" were my favorites. There was always a great camaraderie, and we were all on the same page musically. In terms of "name musicians," I learned a lot from bassist Kenny Aaronson and guitar legend Rick Derringer, who helped us out on our first album.
How did the families of Sandy Hook School react to your song "Love Comes to Us All "? Also, what was the reaction to "Put Up Their Names" written for families of USS Frank E Evans?
About a week after "Love Comes to Us All" came out, I got a very nice note from the first Selectman of Newtown, Pat Llodra thanking me for bringing some comfort to her townsfolk.
Tom Guerra – "Love Comes to Us All"
https://www.youtube.com/watch?v=q7YQMNagqfw
Regarding "Put Up Their Names," that's a protest song which lays the case out to the U.S. Government to include the names of those who died in the U.S.S. Frank E. Evans disaster (while serving our country in the Vietnam conflict) on the Vietnam Wall. I've gotten letters and emails from many of the surviving family members of those who lost their lives on the U.S.S. Frank E. Evans, plus my own U.S. Senator, praising that song. It's really the first ballad I ever wrote, and it tells the entire story of what happened that fateful night in 1969. That didn't make it on "All of the Above" because it was so different, stylistically, but there's a video on YouTube that tells the story through music and pictures.
Your new CD (and your first solo CD) "All of the Above" has a variety of styles in the original songs. Tell us about the songs and the album?
My goal was to try to make the kind of solid rock and roll album that nobody makes anymore, just a bunch of good 3 minute songs. The new cd has 11 original tunes on it, ranging for raunchy, guitar based rock and roll to more melodic stuff. There's a lot of different styles on it, hence the title, but I think the sonics hold the whole thing together. It's by far the best thing I've ever done, and it seems to have taken on a life of its own, especially after the Huffington Post story on it.
Unlike songs I've written that appeared on other albums I've been on, I wrote all of these for my voice, which is a baritone. Basically, I came up with "naked" acoustic demos of the majority of these songs, then decided which "clothes" would look best on them in regards to guitar and amplifier sounds, percussion, grooves, and basslines. I then added, then subtracted. to come up with the right parts and arrangements.
Where can fans buy it?
Folks can buy it at all the regular places they buy music, iTunes, Amazon.com, ebay, etc., but it is best if they buy it from the artist himself (laughs), at www.TomGuerra.com where you can also hear free samples.
What do you want listeners to get from your music?
Ideally, I'd like people to put it on while they're in their cars driving around, and listen to the whole thing. If you like guitar based rock and roll, I think it will succeed in taking your mind off the current day to day noise we all face.
Are you currently touring or do you have any new projects in the works?
I am currently not touring due to a few factors…First off, I built these songs in the studio, though I have no doubt I could get a band together to pull them off live. Secondly, the absence of suitable venues in the Northeast that "allow" original music does sort of limit my ability to gig behind this album. After the new cd came out, I just finished the 2 cover tunes I recorded during the "All of the Above" sessions, which are "Pay in Blood" by Bob Dylan and "Make Your Own Kind of Music," popularized by Mama Cass. You can hear both of these on my website –
Diana Olson – diolson05@yahoo.com