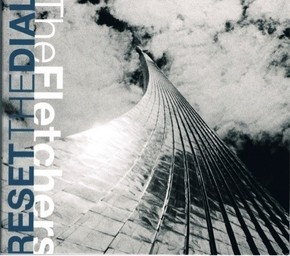 Hello there to all. I hope all are well today and things are going your way. Great article in the WSJ this weekend about Neil Young and his Pono player. Pono is a proposed music download-service and dedicated music player focusing on "high-quality" recorded audio. I think that is so ambitious and shows us that we can improve on digital sound quality. In other news, a new iPhone app called SingTrue™ released today promises to teach anybody to sing in tune accurately and reliably, even if they think they are "tone deaf". The app has been developed by London-based music education technology company Easy Ear Training, following their successful Tone Deaf Test project which showed that just 2% of people are truly tone deaf. I could use this APP myself for sure. Now lets get to my guests of the week coming out of New Jersey by the name of The Fletchers. This foursome have been together for many years and are celebrating their new release 'Reset The Dial.' The album is 12 tracks of real & passionate rock & roll. Join us as the guys speak on the new album, naming the band, physical CDs, and so much more!
Stoli: Where are we talking from today and what's up for the Columbus Day weekend?
I'm in Highland Park NJ – next door to the beautiful hub city, New Brunswick.
Threw a big party Sat night for friends to celebrate my wife's birthday. Had 75 people 2 kegs, 2 gallons of vodka and case of wine and some kick ass BBQ, hot sauces and plenty of other snacks. It was a blast. Sunday was a slow start but a great finish with family. We had good weather here in the northeast and the leaves are turning.
Stoli: Do you feel the US public is being told everything on Ebola and are you concerned?
I am a bit concerned about the potential loss of life and the lack of resources thrown at the problem early. Sometimes our leaders don't always prioritize the most important things. But that's a tail told over and over.
Stoli: Give us a brief background how you came together many years ago and how did you name the band, The Fletchers?
I met my bass player at a party he threw in 2002. I heard that Ween was supposed to play. I didn't know anyone but was told the folks were cool and that I should bring a guitar. I met Dan and Brian (our first drummer) that night, showed them 3 songs which they really liked and a few hours later the three of us played in front of a few hundred people. Ps. Ween was never supposed to be there.
Wanted to name the band the Jessica Fletchers after my girlfriend's (now wife's) favorite show as a kid, but I googled it and there was already a band with that name in the UK. So I took off Jessica and named the band The Fletchers.
Stoli: You have been doing music for a while. Do you feel the Internet and social media have made it easier or harder for an indie band?
I have been playing in bands since the 90's and was in two signed bands Rotator Cuff and Dandelion Fire. Back then there was no music on the Internet and it was really expensive to record due to technology and the cost of studios and 2 inch tape. As a result there were only about 2-3 thousand indie rock bands in the US. Now talented folks can record an album on their laptops with good mikes and music production has been made so much easier with advances in digital studio tech. The result is more than tens of thousands of bands.
The good. More excellent music and opportunities for creativity.
The bad. There is so much music out there it is a challenge to get to hear a fraction of it. And I am sure much of it may never break through to the masses. Anyone can record and be up on sites like Sound Cloud and anyone can post video to Youtube and Facebook.
Stoli: I am really enjoying the album, 'Reset The Dial.' How long were you writing & recording that album and what studio did you use?
The last album was out in the fall of 2011 and by February 2012 I was married and had a baby boy. I took my time writing this album and the band (Gary Kaplan/Lead vocal/guitar, Dan Coffey/bass/vocals, Cliff Heaton/Drums/vocals and Rob Freda/lead guitar/vocals) had time to learn and then help develop the songs on Reset The Dial. We also had time to play at least half the album during live shows in 2012 and 2013. The Album took about 3 months to record, produce, mix and master. I co-produced, mixed and mastered the album with Erik Kvortec who is a very talented recording engineer at Traxx East Studios in South River NJ. By far our best sounding record and the one I feel was able to really dig in and have it be exactly what we wanted.
Stoli: I appreciate the nice CD case & presentation. How do you sell physical CDs in the digital age of downloads and streaming?
300 hundred went out for promo to college radio and another 100 have gone out to press, promoters and the music industry. The truth is although we have sold a few hundred (plus downloads) the album was produced and the artwork was done out a love of music and the format of the album.
I understand the changes in tech and that most people don't ever listen to albums, but some of us still own records player and yes records. I know many miss the thrill of getting and album or CD and listening to it all at once as the artist conceived it. I enjoy making the artwork on each album as much as the music. It is a complete package and unlike an Mp3 it is still organic and can be held in your hands.
We do have our CD's sold on amazon, iTunes, CD Baby and you can stream and download it on dozens of sites (Shazam, Spotify and Pandora) .
Stoli: I really love the song "Four Days." What is that song about and who wrote the lyrics?
The song is tale about waking up after a period of intensity and effort and realizing that you can get up and go. Face your fears and move on. Like most of the songs I write, it can be interpreted in several ways but is often inspired by personal experiences in relationships. I am the lead singer and songwriter and it makes me happy when someone really listens and hears the lyrics…so thank you for digging in…it's awesome.
Stoli: I really dig your overall sound. How long did it take to develop that and what 2 other bands influence you?
The band's influences span the 60s and 70s pop and garage to 80s and 90s punk and indie rock. Picking two bands is tough, but we all love the Clash and I love GBV. (just saw one of their last shows at the stone pony in Asbury Park NJ a few months ago)
Stoli: Can we expect a music video for the album and what song would you use?
Would love to do one for Right for You, Reset the Dial and Daughter….they all tell stories and would be great canvas for video.
There are a handful of live videos of some of these songs up on our youtube channel "Serious Machines," but its going to be hard to top the hideaway house video from 2010….but we will try. ;)
Stoli: What is your long term goal for the band and how do you pursue that every day?
I am still writing and listening to all kinds of music. Music has saved my life many times and continues to sooth my soul. Long term I want to keep writing and expanding our sound. We just broke the CMJ top 200 today (Oct 14, 2014), which is very exciting and eventually I really would love to do some touring to the areas that have responded to our music.
Stoli: What does being in a band and having that connection do to enhance your life?
It provides a creative and spiritual outlet and a connection to others that is pretty amazing and hard to put in words. I love music, live performance and hearing new and creative music that stops you in your tracks and blows you away
Stoli: What is coming up for The Fletchers and where you @ online?
We just played a cd release party last month and our playing our local Ocktoberfest on 10-18-14. We are in the process of booking a regional tour (NYC, Jersey City, Philadelphia and Asbury Park NJ).
Here are the links to listen stream, download and watch video and buy our music. Thanks for the opportunity to share our story and music with you. Gary/The Fletchers.
http://www.thefletchersmusic.com
https://www.youtube.com/user/seriousmachines/videos
http://www.reverbnation.com/thefletchersmusic