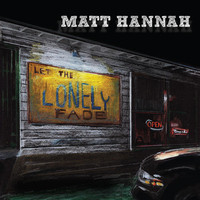 While it is true many feel the music industry is in disarray, it's always a breath of fresh air to hear a new band or artist that's not afraid to take chances with their musical expression. With Minneapolis based Matt Hannah's latest musical offering "Let the Lonely Fade" it's clear to me he has surpassed what many consider to be the a-typical musical release.
Hannah's homespun blend of roots rock, Americana and soul brings you back. The result is a rich musical stew, with ingredients from righteous organ to down-home harmonica, and everything in between. As a testament to its timelessness, the lead off track "Bigger than the Ocean." From beginning to end "Let the Lonely Fade" gives us an Americana anthem with a string of catchy songs that will keep the listener mesmerized and fully entertained. Also present are messages that are uplifting and a vibe that is unmistakably, well "Matt Hannah". Hannah combines many impressive musical styles: like smooth Retro Pop of the 70's and even modern Pop and Blues, with a splash of traditional Soul Rock, and yep even a smig' of Country. Influences include John Mayer, The Band and Eric Clapton. Some pieces I really like are 1000 Miles", "Colorado Girl" and Run River Run" with their powerful yet simplistic messages. 'Bigger Than the Ocean" the title track expand the possibilities as a radio hit in the making. The production though conservative is top notch and the playing from all other band members is spot on. One can hear tidbits and Americana fretwork from banjo, pedal steel, drums layered within each song. Hannah creates a soothing sonic sound that will make virtually any listener feel right at home. As a vocalist, he delivers a gifted vocal timber as he glides with precision with just enough in the way of technicalities, yet not neglecting soul and twang on the side. Many DIY vocalist should model singing their style after Hannah as he sounds very comfortable within his own skin. On many tracks Hannah performs a multitude of impressive vocal performances and solid rhythm guitar playing as well. If you like Jack Johnson, Joe Ely, John Prine and Tom Petty I think it's safe to say you will tumble for Matt Hannah.
Much of Hannah's artistry goes beyond traditional playing and songwriting. Lyrics are also an important component for me whenever I listen and review music. In this aspect he paints you a brilliant visual story between the spoken word and his musical messages of hope, love and the love of life itself. "Let the Lonely Fade" delivers amazing music for all the senses ad really has no boundaries – like the road of life itself. The music of Matt Hannah personifies the journey of life itself.
Rating 4/5 Stars
TWITTER: https://twitter.com/MattHannahMusic
Purchase Link: http://www.amazon.co.uk/Let-the-Lonely-Fade/dp/B00GX6KZYQ
Bob Morehouse