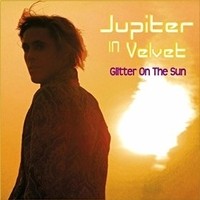 Enter London based Jupiter in Velvet a singular band in the studio but different live. On his latest release entitled "Glitter on the Sun" you can expect a semi-experienced rock musician who champions a highly melodic sound against a passionate backdrop of vocals and lush guitar and keyboard combo, With his latest 13 song CD "Glitter on the Sun" expect 13 passionate clips of spot-on alt-rock with straight forward arrangements that are unique within their own right.
Ninety seconds into the first track "So Automatic" two of the first things crossing your mind is: 1) How undeniably infectious the music sounds, and 2) why the heck haven't I heard of Jupiter in Velvet" before? But let's not get to ahead of ourselves here. Track 1 "So Automatic" lifts off the ground nicely. It's a hooky prelude with a killer chorus and yes, it's still ringing in my head. Track 2 "Anywhere but Here" is another intriguing anthem which is probably my favorite track on the CD. "Get 2 where U Want 2 Go" is an intellectual affirmation of sorts and delivers more progressive rock balladry and show how diverse their writing style can be. The CD as a whole does a nice job at offering a wide variety of media; some slow, some fast, some hard some poppy. All tracks are passionate, while some hit hard with a ring of truth to them. As a vocalist Jupiter in Velvet sings well. I especially like how his voice ort of flows with the music – never going against the grain. Jupiter in Velvet no doubt has a solid live show (looking at online pics) proving this is one band that believes in putting an emphasis on good playing and solid heartfelt vocals at their core. One of my favorite things about this CD is how their musical style sort of runs its natural course with pockets of bursting intensity then quickly withdraws again into melodic seclusion. I found this to be a very cool trait of Jupiter in Velvet. To go with this – he is kind of a master at matching this flow with his voice and emotion
Glitter On the Sun by Jupiter in Velvet is a really good musical teaser and sets the standard for new age rock. It combines a masterful string of inspirational subjects, and well thought out lyrics for today's thinking man/fan. Taking all of this into consideration you begin to understand why this lad is making such a splash outside the UK. The lyrics are carefree yet full of intrigue, passion, and wisdom. I can also hear a bit of Elvis Costello, Dan Auerbach, Blackroc,
Jack White, and Kasbian. All of this and more makes Jupiter In Velvet an extremely hot commodity, to say the least. He has a look that will atract many female fans as well. In the end he does a marvelous job of extolling emotional energy via a strong 13 track release called "Glitter on the Sun".
PURCHASE LINK: http://www.amazon.com/Glitter-On-Sun-Jupiter-Velvet/dp/B00NOZ1NDG
URL: http://www.jupiterinvelvet.com/
Score: 4/5
Gwendolyn Katz