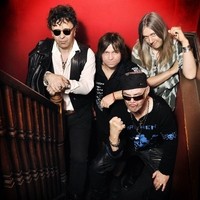 Mayhem Deranged know how to have fun. 50 Megaton Love hits fast and hits hard. Everything comes together perfectly: from the driving tempo to the forceful vocals. With a clear nod to Billy Idol's work in the 80s, the song is an absolute joy. Though 80s nostalgia is in full swing few others really seem to be following Mayhem Deranged's modus operandi of high-energy rock. By completely embracing this oft-neglected sound Mayhem Deranged sound like little else out today. This is a real shame because the song is a total blast.
Audio: http://www.reverbnation.com/mayhemderanged/song/15502613-50-megaton-love-2012
Wasting no time 50 Megaton Love hit the ground running. The rhythm is tight. The riffs are incredibly catchy. For a while the song simply rides by before Ray Mayhew's vocals arrive. When they do the song truly begins. Lyrically playful in the same way as "Rebel Yell" the song is a rather sweet sleazy piece. Utilizing the stop-start rhythm with the wonderful growl helps to give the song a carefree, almost primal feel to it. From here Mayhem Deranged moves into a more narrative sensibility as Ray Mayhew continues to describe his love with affection and admiration.
Incredibly physical towards the end the song begins to move away from the groove as the guitar is allowed to go further and further out. The solo at the end helps to set the mood for the smooth delivery for the song's finale. Rock and roll needs more songs like 50 Megaton Love.
http://www.facebook.com/MayhemDeranged
http://www.mayhemderanged.com
Posted by Beach Sloth