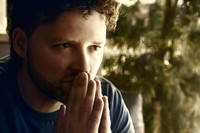 "Not Where I Want To Be" is a diverse eclectic album. Displaying a fondness for a vast variety of genres all of them viewed through a distinctly 80s filter. The earnestness of the album shines throughout its duration. From acoustic to the more dance-orientated work the pieces tend to work together to create a coherent whole of an album. What binds the piece together is a clear focus on pop accessibility that allows the pieces to linger on in the mind. Lyrically the pieces match up nicely with the low key attitude of the pieces.
Audio: https://www.melogia.com/music.html
The title track "Not Where I Want To Be" explores what it means to mature wondering what happened to those goals set long ago. One of the highlights of the album the vocals have a relaxed vibe to them which is nicely accompanied by the dreamy guitar work. For the flipside there is the energetic "Nothing To Hide" which is a total rush. "I Love To Love You Too" goes towards an electro-pop flavor being one of the most dance-friendly pieces. Sarantos also shows his strengths in creating ballads like "Back and Forth". Finishing off with the western twang of "A Country Song" displays his talents in setting a mood. Slowly the piece builds up until it ends the album off on the sweetest note possible.
Saranatos perfects his craft on "Not Where I Want To Be", an emotional album that avoids being maudlin.
Posted by Beach Sloth