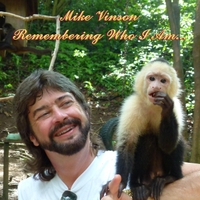 Mike Vinson is a musician that plays for the love of the music. He always tackles a project with the intention of what is best for the song. He has built a career playing in several bands for others and decided to put his own stuff out in the world with his latest project, Remembering Who I am.
Buy: http://www.cdbaby.com/cd/mikevinson
Vinson has a unique vibe, groovy mandos with a folky guitar and a soft vocal that delivers his heartfelt sentiments. He reveals to the world his desires with an addictive melody that captivates and leaves you wistful in bliss. He is quite the lyricist, his words spoke to me, they felt mystifying and dreamy, but yet he has something to say. Preach it Mike, I'm listening.
This entire CD feels like his life laid before you with as much certainty as I'm sure he lives it each day. My favorite track is, Living By The Numbers. Melody and words are without a doubt sincere and both serve each other perfectly. This entire CD is a pulse that flows through your veins and feeds your imagination.
Mike Vinson's CD, Remembering Who I am is a quiet walk into a conscientiousness of a different world. It is full of distinct potential and can only get better from this point. This is music that has to be approached with an open mind. It needs to be listened through several times in order to appreciate all of its subtle nuances. Enjoy!
I rate this 4 out 5
http://www.reverbnation.com/mikevinsonamericana
Rebecca Hosking – hoskingrebecca@gmail.com