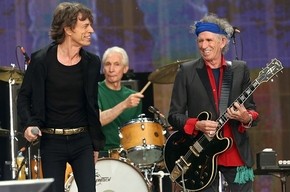 There will always be a music fan out there ready to jump into a comeback concert. We're talking about the ever so famous Rolling Stones, who have been known for hit singles like "It's All Over Now" and "Heart of Stone". Consisting of a charismatic team of pop prodigies, Mick Jagger, Keith Richards and Ronnie Wood are making a comeback in Australia. They have released around 29 studio albums and eighteen live albums with plenty more compilations in the past decade. If you're aching to catch a glimpse of this iconic band, watch them live in Australia.
History of the Band
Rolling Stones rivaled the Beatles in the 1960's with "Some Girls" and "Aftermath" being top hit albums in the past. Their music has been a great influence on teenagers who fell in love with their rebellious rock culture. Originating from Dartford, Kent in 1962, the Rolling Stones were part of the vanguard of British rock bands that invaded the US around the 1960-1970s. Their instrumental role in introducing blues into the world of rock has gained them a high reputation in the musical hall of fame.
Upcoming Rolling Stones Concert
If you're not a rock fanatic, you may be surprised to note that "The Stones" are back on tour! Today there are tons of fans out there that will spend to watch The Rolling Stones perform live! Ever since their comeback they've been touring throughout England and are now set to cross waters for a worldwide show. As per recent news, we've gathered that the band has teamed together for a thrilling show on the road as they travel across different continents.
Their most recent and upcoming concert will be held in Australia and New Zealand. The band reconfirmed the dates of their music tour which begins in Adelaide from October 25th. After confirming that they were indeed heading to Australia, the newest update has been their 6 latest concerts to be held in Australia and New Zealand this fall. You can watch them return on the road after an eventful year back in 2013 when they toured through the US. Watch them live in Australia and if you're an eager fan, book your tickets right away.
Schedule for Rolling Stones Concerts:
Saturday 25th October – Adelaide Oval
Wednesday 29th October – Perth Arena
Saturday 1st November – Perth Arena
Wednesday 5th November – Rod Laver Arena, Melbourne
Saturday 8th November – Hanging Rock, Macedon
Wednesday 12th November – Sydney Allphones Arena
Saturday 15th November – Hope Estate, Hunter Valley
Tuesday 18th November – Brisbane, Entertainment Centre
Catch Mick Jagger live on stage grooving to the beats of their most popular tracks, "Brown Sugar", Satisfaction, "Angie" and many more you probably forgot you knew! Some of the most beautiful songs have been created and composed by the Rolling Stones. Till today their artists are commemorated for the tracks they've released in the past. The Rolling Stones have been a natural influence on the youth during the rebellious rock feuds so if you're a long lasting fan; catch band perform live in Australia. Book your tickets for the show and watch them live in Australia in the coming fall.