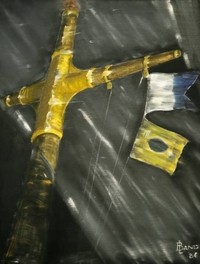 Alpha over India's "One Last Chance" lives in hope. Within these two tracks is a great deal of care. The sound is warm. The vocalist is confident. Sonically the songs are reminiscent of a time in the 90s when rock sounded more personal, less scrubbed. Rhythmically the pieces employ a driving beat which helps each piece through. By residing partly in the darkness the songs are able to find new forms of light by the ending. Each song is a journey and the destination can be reached only with hope.
"One Last Chance"
https://www.youtube.com/watch?v=_h8iSQqloF8
"One Last Chance" begins with a slight rumble before the entire thing bursts forth with great energy. Upon calming down the band reveals their charms in creating a welcoming atmosphere for the vocalist. Lyrically the song appears to be one of faith. This faith rests within the chorus whose work helps to lighten the tone showing the power of togetherness. For the closer of "Blue Skies" Alpha over India have a slightly lighter attitude as reflected by the vocal manipulation that introduces the song. Acoustic guitars give the song an airy feeling. Even the lyrics are positive expressing the joys of finding happiness after a long period of gloom. By focusing on the simple joys Alpha over India is able to find true peace, especially with surprise guest vocals from a small child.
With such radiant happiness throughout the two pieces it is hard not to resist the collection's many charms.
Posted by Beach Sloth