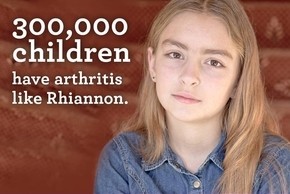 The Arthritis Foundation, New England Region has named Annierose youth honoree of the 2014 Boston Walk to Cure Arthritis. As youth honoree, Annierose will put a face to arthritis and share her story, helping the Boston Walk to Cure Arthritis reach its fundraising goal of $350,000. Lucy Beth Fraser, 13 years old of will join Annierose as a youth honoree as well.
Walk to Cure Arthritis is the Arthritis Foundation's largest annual fundraising event, with local events hosted by approximately 100+115 cities nationwide. Funds raised through the event support Arthritis Foundation programs, research and advocacy initiatives to help people live better today while finding a cure for the number one cause of disability in the United States tomorrow.
Annierose Klingbeil is a very active 17 year old junior in high school. She plays and coaches soccer, studies violin and piano, leads her Girl Scout troop, apart from doing homework and hanging out with her friends. Annierose was diagnosed with polyarticular juvenile rheumatoid arthritis at age three. At first, only her right knee and thumb were affected. Over the years, the arthritis has spread to include both knees, ankles, wrists, elbows and right thumb. Annierose was not allowed to play soccer until third grade, when she went into remission. Since the 6th grade, the JA has resisted control. She has taken many oral and injectable medications over the past 14 years, among them newly developed meds such as Arava, Enbrel, and Humira.
During her sophomore year of high school Annierose lived (and went to school) in Germany for one year with her relatives. Managing her arthritis was challenging, due to the distance between her and her rheumatologist.
The Arthritis Foundation has been a springboard for Annierose's interest in advocating for herself and other children with arthritis. When she was asked to be the ambassador for the walk at age 10, it was an opportunity for her to open up and educate others. Previously very shy about having arthritis, Annierose learned to speak out and educate others about JA. Since then, she has attended five national JA conferences and the Dartmouth-Hitchcock JA camp. She spoke at the Key for a Cure dinner. She produced a video about JA for her Girl Scout silver award and is focusing on JA for her gold award as well. She has raised over $10,000 for the Boston Arthritis Walk with her team, Annierose's Adventurers.
Annierose is very excited to be the youth ambassador this year and hopes to make her last high school walk the best one by far.
"Arthritis is a costly, painful and debilitating disease that affects millions of Americans," says Robin Maxcy, Senior Director of Development. "I look forward to working with the city of Boston to garner the support of local businesses and organizations to host a successful Walk to Cure Arthritis and reach our $350,000 goal."
www.walktocurearthritisboston.kintera.org