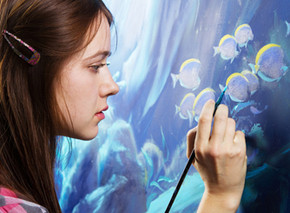 From the time you were young, drawing pictures and creating paintings were two hobbies you always enjoyed. All throughout your primary and secondary school years, you pursued classes in the field. Now, the time has come to decide upon a college major, and you want to know the benefits and consequences of obtaining a degree in art.
Pursuing Your Passion
Having a job that you love is worth a lot, and many people who chose a position they were essentially forced into can probably tell you that. Working in the field of art means that you'll get to wake up every day and continue to inspire and create. Whether you teach painting classes to underprivileged children in the community or you embroidered stunning patterns to sell to customers at your own online store front, you will get to share your talents with the world.
Many Areas to Dabble In
Obtaining a degree in art means that you have a lot of choices at various levels. For example, you could attend a traditional university, opt for an art school or obtain a UF art education degree online. Furthermore, you could choose to specialize in a particular area of art. You might want to teach art skills to youngsters, sharpen your own tools in painting or pursue a degree that heavily focuses on ceramics or photography.
Few Open Jobs
In many artistic fields, the jobs are fairly limited. Unless you are at the top of the pack, you could have an extremely tough time obtaining a position, and even if your skills are superior to your competition, you could still experience a rather difficult time getting noticed and finding the right position. Even when you do get a job, you may find that the pay is much less than you expected.
Technology and Art
Some positions that were originally held by artists are now being taken over by technology. For example, some schools are cutting back on art programs, and students are simply looking to the web when they want to learn how to draw. Also, graphic designers tend to need some experience with technological schools for design these days. Of course, you can go with the tides and look for a degree that lets you infuse your love for art with the necessity of technology.
No matter what field you ultimately choose to go into, having a solid side of the pros and cons will help you to decide if this step is the right one to take.