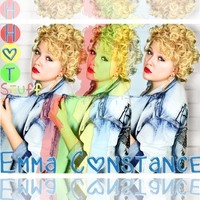 Don't panic! If you're looking for a sassy reworking of the Donna Summer classic 'Hot Stuff', Emma Constance has got it covered.
Buy – https://itunes.apple.com/us/album/hot-stuff-single/id906163832
Listen – https://coast2coastmixtapes.com/audiodetail.aspx?audioid=375008
It's always a little concerning when approaching a cover version of a song that is so embedded in classic pop culture, not least when it's the kind of song that is sung the world over at 2am when parties decide to crack out the karaoke machine. The problem with this kind of project is that when the original was recorded so fantastically, the new version needs to either come at it from a completely different angle, or it needs to be such a blisteringly good performance that it almost supersedes the original. Sadly, neither is the case here. That's not to say Emma Constance's version is not a valiant effort – it certainly is, and the pop production is sufficiently glitzy. What is unfortunate is that I'm not convinced that a song of this magnitude is the best way to showcase Constance's voice, which is perfectly decent and bears all the hallmarks of a very capable singer. As a result, we're left with the sense that it would be nice to hear some original work to get a better feel of what she's really all about. Covers are always a lot of fun, but they can only take an artist so far. More, please.
https://www.facebook.com/EmmaConstanceOfficial
By Chris Marsh