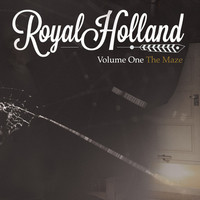 Running the gamut from folk to dance Royal Holland's "Volume One – The Maze" is a lot of fun. The combination of the radically different styles brings to mind Beck's early experiments with folk and found sounds. Lyrically the collection ranges from the celebratory into sadder territory. With such a collection Royal Holland is able to show off his ability to create catchy rhythms and melodies.
http://royalholland.bandcamp.com/
Nowhere is this talent more readily apparent than the infectious "Devil's Night". An embodiment of the 'you only live once' spirit the song explores what it means to let loose and embrace the moment. The song is one of the collection's true highlights as it features a memorable hook with an irresistible rhythm. On "Statues" Royal Holland slows things down considerably offering a bit of a break from the immediate "Devil's Night" instead gradually building the song up. "The Maze" serves as the contemplative heart of the collection. Akin to a dirge the organ's drone gives the song an overall sense of sleepiness, as if the song is half-dreamed. For "Shore" Royal Holland displays his keen dance-pop sensibilities. Hand-claps, synthesizer, drum machine, the song is quite a bit of fun before the remarkably laid back closer "Twin Rivers".
On "Twin Rivers" Royal Holland ends the collection off on a tender ramshackle note. With a loose rhythm the song is sincere in its sentiment. Royal Holland has created a truly lovable collection with "Volume One – The Maze".
https://www.facebook.com/pages/Royal-Holland/423368774447588?ref=hl#
Posted by Beach Sloth