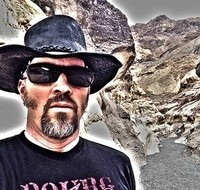 While it is true many feel the music industry is in disarray, it's always a breath of fresh air to hear a new band or artist that's not afraid to take chances with their musical expression. With San Francisco based Django Mack's latest musical offering "Sweet Life" it's clear to me he has surpassed what many consider to be the a-typical musical release. Mack's music is a homespun blend of roots rock, he walks the barren plains of the old west looking for redemption. There's no saloon or pretty woman that he can say no to, no jail that can hold him in, no barbed wire fence that can keep him out. He sings about the people he meets, the loves that have gone bad, the questionable decisions that have led him to this place, this day, where you and he are passing the time together. Mack's songs are kind of stories about situations, observations and events that have impacted him through the years. He presents these songs in a mixed style of folk, folk jazz, saloon jazz, folk alternative, blues and vintage Americana. It's obvious to me Mack recruited some of the best musicians around the region to help record this record. The result is a rich musical stew, with ingredients from righteous Saxophone's to slamming Piano and everything in between.
From beginning to end "Sweet Life" gives us an Americana anthem with a string of catchy songs that will keep the listener mesmerized and fully entertained every step of the way. Also present are messages that are uplifting and a vibe that is unmistakably, well "Django Mack". Mack combines many impressive musical styles: like smooth Retro Pop of the 70's and even modern Pop and Blues, with a splash of traditional Soul Rock, and yep even a bit of Steely Dan-ish Jazz. Influences include John Mayer, The Band and Eric Clapton. Some pieces I really like are 'The Devil's Watering Hole," Three Dollar Bill" and "Cool Water" with their powerful yet simplistic messages. 'Shoulda Known Better" expands the possibilities as a radio hit in the making. The production is also top notch and the playing from all other band members is spot on. One can hear tidbits and Americana fretwork and top shelf Piano, Horns, Trumpet, Saxophone and amazing background melodies. Mack creates a striking to the ear sonic sound that will make virtually any listener feel right at home. As a vocalist, he delivers a somewhat whispering vocal timber as he manages to glide with precision with just enough in the way of technicalities, yet not neglecting soul and twang on the side. On many tracks Mack and a few background female singers perform a multitude of amazing soulful harmonies. If you like Jack Johnson, Joe Ely, John Prine and Tom Petty I think it's safe to say you will tumble for Django Mack.
Much of Macks' artistry goes beyond traditional playing and songwriting. Lyrics are also an important component for me whenever I listen and review music. In this aspect he paints you a brilliant visual story between the spoken word and his musical messages of hope, love and the love of life itself. "Sweet Life" delivers amazing music for all the senses ad really has no boundaries – like the road of life itself. Django Mack Rocks Americana!
Purchase Link: http://www.cdbaby.com/cd/djangomack2
URL: http://www.djangomack.com
Reviewed by: Patrick Mover edited by J.J McCall. (Portland, OR)
Review comments: johnmccall964@gmail.com