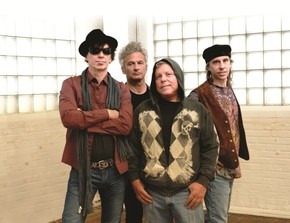 Hello there good people of the world. We are still all here and that is a good sign. So I will admit that I have always been a fan of the MTV VMAs. This year though I had no idea that they were on last Sunday. The only thing I knew was that a back-up dancer for Nicki Minaj got bit by an anaconda and that Suge Knight got shot at a pre-party. It is probably for the better I tuned out. Anyways in music news this week, paid-for streaming music subscription services have experienced significant growth in both the USA and key markets in Western Europe, with paid-for subscribers in these territories expected to double to over 20 million in 2014 compared to 2012, according to the latest research from Futuresource Consulting. In other news, Shazam announced it has more than 100 million mobile monthly active users (MAUs), a 34 percent increase year-over-year and a milestone achieved in the past only by an elite group of services, including the likes of Facebook, Twitter and YouTube. The app has been downloaded onto more than 500 million mobile devices to date and is adding users at a rate of 13 million per month. Just think that they counted the music biz out a few years ago, but we have adapted and transcended all expectations, bravo! Now lets head to NYC where there is an exciting rock band The Dave Goddess Group who are on the rise. I have their 'Blown Away' EP here and when I listen it makes me want to go out and drink and listen to live music. "One Man's Passion" is a song that speaks to me, you must hear it. I got the guys in and we got talking about their history, Tom Petty and Eric Clapton on the charts, playing out in NYC, and so much more!
Stoli: Where are we talking from today and how is summer so far?
We're talking from beautiful downtown NYC. The summer's been great so far. I read "Don Quixote." I ate rattlesnake. I'm learning to meditate. I've realized how much I like tequila.
Stoli: Offer us some background on the band and how did you guys come together?
I'm lucky to work with some really talented musicians. Tom Brobst plays keys and sax, Tom Bazilak is our drummer and Mark Buschi plays bass. We've been together for years, and we're close. All musicians know that every band has at least one asshole in it, but I truly believe we don't. Hey…maybe that means it's me! But being in a band is supposed to be fun, so I like doing it with friends.
Stoli: Offer us some insight into how you guys create a song. What comes first the lyrics or instrumentals?
When I write, I'm mostly trying to please myself. I'd never try to write a "hit" or target any specific audience. Lyrically, I'm usually trying to find an interesting topic and get to the heart of it. Above all, I want the end result to be honest and authentic. I usually come up with the title of the song and basic concept first. Next I write a chord progression and put together a rough arrangement with drum loops. Then I take it to the band and tell them to play it their way. This is the most fun part for me, because I've been stewing on the song for a while and by then I'm usually sick of it, or I've begun to doubt that it's any good. The band breathes life back into it and takes it to a higher level. After that I finish and polish the lyrics.
"Lucky Guy"
https://www.youtube.com/watch?v=sqJsYf1DxcE
Stoli: I am really loving the new EP. How long were you writing & recording the music and where?
Glad you like the EP. I wrote the songs over a period of 3 or 4 months. I had been doing some traveling, and that always inspires me and gets me out of my comfort zone. I'm not a quick writer, and I re-work material a number of times until I record it. I laid down the basic tracks in a great studio in Nazareth, PA called Spectra Sound. NYC bands should check it out. It's owned by an old friend of mine, Jim McGee. The tracks were finished back in New York at a small studio owned by a very talented engineer/producer named Konrad Carelli. Konrad engineered our first album as well as our new EP. He also produced the EP along with me.
Stoli: I love the song "One Man's Passion." What inspired you to write that song and what does it mean to you?
I spoke before about traveling, and most of the song was written in the Middle East. I think I got the idea when I was in Jerusalem. We hear about it on the news, but if you've never been there, the Old City is this messy clash of cultures and religions. It's crowded and chaotic. It's a holy place for Jews, Christians and Muslims, and they've been squabbling about it for thousands of years. Anyway, that's how "One Man's Passion" got started. The song is about how good people can look at practically any topic and have totally opposite feelings about it. And they can't even agree to disagree. Inject religion into the equation and it gets even more complicated. This can obviously be a bad thing, especially if it turns violent. If not, it can be good. It makes life interesting.
Stoli: Do you have any special approach when you record?
For me, the biggest challenge these days is to not make it too perfect. With all the technology available, you can make the tempo precise and all the performances flawless. You can auto-tune the vocals. I think it's important not to be seduced by that, because in the end your track will have no spirit and you'll be trying to figure out why it sucks.
Stoli: Is there any plans for a music video and what song will you use?
I'm sure we'll make another video soon. They kind of bore me, but I guess they're still relevant. Not sure what song we'll use.
Stoli: Being that you are based in NYC, where do you guys play live and go out for cold beer and live music?
We play around the city in the usual rock clubs. Did the CBGB Festival—that was fun. I do get out for a beer now and then, but the gritty type bars that I like are mostly gone from my gentrified neighborhood. But to me the most exciting thing about NYC is how inspiring it can be. There's so much weirdness and diversity everywhere that all you have to do is walk around and take it in. I just write down what I hear or see, stew on it for a while, and make it rhyme.
Stoli: Do you guys have work/school/family and how do balance the band too?
Sure, everybody has things going on. If you don't make the band a priority, then you never get anywhere. So we've worked most of that out. Actually, more and more, I think it's important to have a life outside of music. I used to play live more than I do now. We'd often do 30 nights in a row. After that, you don't feel like even looking at a guitar, and you don't have much to write about except maybe driving or motels or poor health or lack of sleep.
Stoli: This week Tom Petty and Eric Clapton have the 2 top albums in the charts. What does that tell you about music today and streaming and downloads?
Well, it gives me hope. It shows that people still care about rock 'n' roll music, and also that it can be a lifelong pursuit. Those guys are living legends and it's great to see them out there still growing and doing something relevant. And musically, it plays well into what I'm doing. I want to make new classic rock–music based on creativity, musicianship, soul, and self-expression. And it's great that the original guys are doing it, but I wish more young bands would follow their lead. As for me, I'm trying.
Stoli: What is coming up for Dave Goddess Group and where you @ online?
We're taking a short break from live dates. I'm writing more songs and I can't wait to get back in the studio and record them.
Look for us on our website:
http://davegoddessgroup.com
Facebook:
https://www.facebook.com/pages/Dave-Goddess-Group/150645201642763