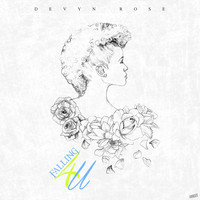 "As if Rihanna and Labyrinth decided to turn to diamond theft, only to give up halfway through the heist and head to a club instead without bothering to change out of their cat burglar outfits."
Loaded with emotion, yearning, and the ache of new love, Devyn Rose's 'Falling 4 U' is a rich and soulful track that gazes out into the chasm of the unknown realm of new relationships. The creaking bass that underpins the track fits the mood perfectly, simultaneously matching the exciting butterflies with the nervous terror and uncertainty of how things may or may not work out.
Devyn Rose – "Falling 4 U"
https://www.youtube.com/watch?v=d-AkoqaF2lA
Devyn Rose – "Falling 4 U"
https://soundcloud.com/iamdevynrose/falling-4-u
There's a distance to the track which adds to its intrigue and mystery, and Devyn Rose's voice is as smoky as it is smooth, while the synths throb and expand as it develops, with clanking percussive elements that cause it all to slot together. While comparisons might be made with Rihanna and Beyonce, Devyn Rose is doing something that is entirely her own thing, and at under three minutes long, 'Falling 4 U' manages to establish her skills quickly and effectively.
By Chris Marsh