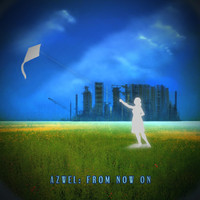 Azwel's "From Now On" is studious, well-crafted pop made perfect. "From Now On" sounds remarkably similar to Jon Brion's soundtrack work. Azwel's casual songwriting approach and vocal style make it surprisingly tender with a warm, well lived-in sound. Much of the album has a cinematic feel to it that allows the songs to gain an additional emotional resonance. The songs veer between a frenzied happiness and utter despair sometimes within a song. With this approach Azwel is able to create a collection that remains truly compelling.
Bandcamp STREAM Link: http://azwel.bandcamp.com
Opening with the wistful "Alone in the Park" the collection starts off quite strong with the grandeur of the piece conjuring up images of large lazy boulevards. This energy continues with "Out on a Limb" which becomes a tad more playful. "War Against Innovation" is one of the highlights of the collection and feels like the collection's heart, with a jaunty rhythm introducing the listener to the rather dreamy atmosphere. Everything fits together perfectly each section nicely flowing from the next. Things move towards darker territory with "The Writing on the Wall" chugging along as introspective lyrics pepper the melody. For "Don't Take It For Granted" Azwel pays tribute to fine smooth pop acts, sounding like Ambulance Ltd if they had continued.
Towards the end of the collection Azwel slows things down considerably. "All the Things to Come" is yet another highlight focusing on the more contemplative aspects of the sound. The entirety of "From Now On" is a celebration of good taste.
Website Link: www.azwel.com
By: Beach Sloth