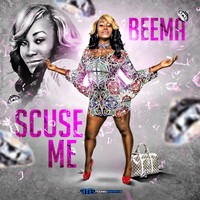 Ft. Pierce, Florida is the home to BEEMA, a female rap artist who knows how to work her hooks and flows into epic tunes at every turn. Citing T.I, Lauren Hill, Lil Wayne, Nicki Minaj, Kendrick Lamar, Lil "Queen Bee" Kim, and Nas as her influences, BEEMA is known as THE BOSS OF THE SOUTH. After watching her video for "They Don't Care" I was pretty excited to hear what she's doing on her 4th mixtape "Scuse Me". So here we go…
The intro goes in hard, letting everyone straight up know that BEEMA's back with "I'm The Truth" produced by Sam Adams" There are several producers throughout the mixtape with their own distinct beats, but BEEMA brings it all together with her tight rhymes and hooks.
Tru Baller produces some trap behind "Worried About Me", a song about people getting into her business, jealousy and gossip.
"Turn Off The Lights" is a bit of R&B and pop, it's a love track, albeit an explicit one… about and on and off relationship getting back on track.
Track #4 is a treat for BEEMA fans, showcasing her freestyle flow… so who's up for a battle?
"Hop In My Ride" features R&B singer Antoine Carrion carrying the hook, it's another track about some luvins of the explicit kind. A love song for the Eminem generation.
Next up is "I'm Different", with a killer simple bass and piano line while BEEMA does some serious tounge twisters.
Doughboy the Chef produced the track "Love Is Pain", while Kandi Dady's got the beat for "First Down", using football metaphors throughout the track to describe her exploits. Pretty clever. Dady's got the next track too.
"Fuels Me" by Big Boom is BEEMA's comeup story. "It's a cold world but the streets make you smarter…" it's about the ruthless nature of the music industry.
"Ion Want Cha Back" feat Gutta Slim is slam against an old lover. "I love you but I hate you at the same time…" it's a great banter back and forth between BEEMA and Gutta.
"Up Dat Cash" shows BEEMA in top form, showing off some solid skills and fast flows.
"Crime Of Passion" begins with a court being addressed and BEEMA taking the stand. You might figure out where this one is going… followed up by "Homie Lover Friend", a true banger, this track will kill your speakers.
"Touching Myself" introduces itself by sampling "I'm Bad, I'm Bad… I'm Really Really Bad" by The King of Pop himself, Michael Jackson. BEEMA takes it to another level that'd be sure to make Mr. Jackson blush.
Beema- Crime of Passion
https://www.youtube.com/watch?v=i5Xvy9UOfQs
Next is "Emotional Cheating" featuring Burga on the track. The song is about non physical relationships and how they can affect an intimate one, especially if your mind starts drifting off and you start thinking about the other person as an emotional replacement for the person you are with who might not be meeting your psychological needs. It's a gray area for a lot of people these days, especially with texting and chats filling in relationship gaps.
"Can't Judge Him" is about just that, BEEMA's man. The mixtape ends with "C Wake Outro" who shouts out to BEEMA and the dj's and producers who built up a pretty fantastic mixtape full of diversity, going hard one minute followed by an almost fragile sound the next. There's a little something for everyone on "Scuse Me" and you can download it on DatPiff for FREE! So make sure you do just that.
Check out "Scuse Me" @ http://www.datpiff.com/beema-scuse-me-mixtape.530643.html.
You can also find BEEMA on her official site www.ScuseMe.us as well as the purchase of "Scuse Me" on iTunes: https://itunes.apple.com/us/artist/beema/id496018632
Douglas Garnett – Douglas.Garnett@gmail.com