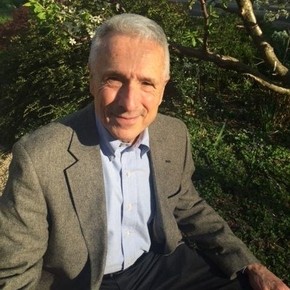 One afternoon as a young man, I read the line from a poem in Walt Whitman's Leaves of Grass, "I saw in Louisiana a live-oak growing". Mysteriously, this line, a simple statement, overwhelmed me, and tears welled. Its secret power defied rational explanation. After all, at that point, I had never even been in Louisiana or seen a live-oak. Decades later, my son, known more for his athletic prowess than literary sensitivity, faced his first assignment to analyze a poem. To my utter amazement, after searching our shelf of poetry books, he came to me with my dog-eared copy of Leaves of Grass opened to that same poem. Choked with emotion he recited, "I saw in Louisiana a live-oak growing." My son had never been to Louisiana, seen a live-oak, or had the poem read to him. The power of that declarative line locked our two generations together in a deeply felt moment. Not surprisingly, when I read the poem now, I relive that experience with my son. That line and the relationship with my son are permanently bonded.
I know that a brief essay on music should not, in the name of discipline, wander into poetry even if the "Good Gray Poet" titled many of his efforts, "songs," but this experience with my son is the best example I can dredge up for illustrating what happens to us all with music. I do not offer this as a breakthrough musical insight; rather, I write about it to celebrate its universality, its commonness – the coupling of music to the most intense moments of our lives. It is a Song of Joys to use a Whitman title, and it is an emotion understood everywhere on planet earth.
As I spin through the tape of my life, special songs cause me to hit the play button to listen and linger. Some are master works and others, silly or syrupy things, but I hold them, democratically, with equal value in my heart. In our small living room, I listened with five year old compulsivity to a 78rpm record of The Ballad of Davey Crockett "King of the Wild Frontier." When I hear it now, I see my father sitting before me, miraculously patient and smiling. Late at night, with the gray light of approaching adolescence, I discovered Chicago's radio rock stations and became captivated by The Monster Mash, which if you didn't know was a "Graveyard Smash." On that frightening starting day of my first job at a local bank, two older guys, who had been to their senior prom the Friday before, arrived in that dank mailroom singing the 1966 hit, The Pied Piper. "Hey come on babe follow me, I'm the pied piper, trust in me . . .and I'll show you where it's at." Their teenage joy and instant acceptance of me soothed my sorrow over the sudden death of my father not long before and gave me hope that maybe my teen years could be fun. To listen to that song now a million years later puts me back in that job, laughing once more, every smell and every face comes alive.
On a steamy August afternoon in St Louis in 1968, shortly after my arrival at college, from every open dorm window spilled the Beatles song, Hey Jude, infecting us all with its melody and lyrics. Whenever it is played now I hear the young woman and object of my attention in that formative year saying dreamily, "It's so beautiful the way it says 'take a sad song and make it better.'" As a Marine Corps officer in the dark days of 1972, Carly Simon's hit, You're So Vain brings back autumn training at Quantico. As a graduate student I wore out a Cleveland Orchestra's recording of Gershwin's Rhapsody in Blue. Now it accompanies my every reminiscence of that time. Living in Vienna replays with clarity when I listen to the recording of Leonard Bernstein conducting the Vienna Philharmonic and pianist Krystian Zimerman in Beethoven's 5th piano Concerto. My dear friend and I sat in the first balcony of the Musik Verein on that September evening in 1989. Little did we know Bernstein would soon pass away. The audience and we, with our thunderous hand-numbing applause, expressed without words our collective understanding of having witnessed something great.
Finally, there are those songs which trigger sweet memories of falling in love and having love endure, and I guess I'll just keep them secret for now. I'll only hint that Cole Porter and George Gershwin wrote several of them. And so it goes. There are dozens of other examples, all of them precious. I know mine are no more special than the playlist each of us carries in our souls, but each is special and unique indeed. If this essay does anything, may it allow the tape to play, to let the music linger in your hearts sitting on a screen porch, on a beach, or in front of a fire. These songs are the poems that bind us body and soul to our loved ones, to our communities, to our cultures, and to the world.
Philip T. Nemec earned his degree in Economics from St. Louis University, but was mentored by English professor and mid-western poet, John Knoeppfle. Following graduation, Nemec became an infantry officer in the United States Marine Corps. Returning to Chicago after the Marines, he earned his Master's degree at the University of Illinois at Chicago's writers' program, which is where the idea for The Chicago Syncopator took form. Following nearly two decades working abroad, he retired from his government position and now lives in the Washington, D.C. metro area, with his wife and two college-age children. The Chicago Syncopator is Nemec's debut novel.
By Philip T. Nemec
Connect with the author at www.philiptnemec.com
The Chicago Syncopator is available in hardcover, paperback and ebook from www.amazon.com and www.barnesandnoble.com.